Last December I introduced you all to I See Me! personalized books for kids, when my big guy received his 'My Very Own Pirate Tale' book all about him. It quickly became a family favourite and the little boys loved it just as much as he did, especially the Middle Man. I was actually starting to feel pretty bad about him not having his own special book when we were asked to take a look at another title in the I See Me! collection 'My Very Happy Birthday'.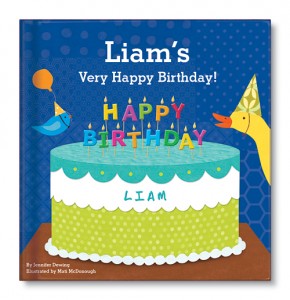 "Let's have a party!" Frog leapt in the air. It's May 1st. It's time to repair!"
The "My Very Happy Birthday" book is available in a boy and a girl version, both of which as super cute. The animals are preparing to throw a surprise birthday party for your little one! Invitations are printed by bird, squirrel runs off to find a cake and a full animal band is formed! Your little one will definitely be surprised and delighted to see their name and birthday in print and hear all about the animals making a fuss over them.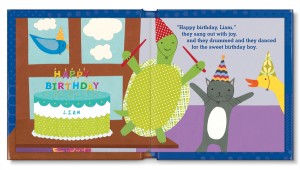 You can choose to have the book be specifically about a certain birthday, age 3 for example, or keep it generic to use each year. We decided to leave the age out but included it in the dedication at the front of the book. ours says "With Love on Your 4th Birthday, Mom and Dad".
Kids love to be the center of attention, especially on their birthdays and this is a great way for that to happen!
TWO (2) GRAND PRIZE Winners!  (open to US residents only)
Winner 1 will receive a girls wooden bookcase and 10 I See Me! personalized storybooks 
and Winner 2 a boys wooden bookcase and 10 I See Me! personalized storybooks. 
Each grand prize is valued at approximately $500 retail value. 
10 runners up will receive an I See Me! gift certificate valued at $32.95 plus standard shipping (good for 1 storybook).
The Promotion begins on April 17, 2012 at 12:00 a.m. Eastern Time ("ET") and ends on May 17, 2012 at 11:59 p.m. ET
You can win also win a personalized copy of "My Very Happy Birthday" for someone special in your life!
US/CAN