WELCOME to BLOGFEST!!
I have two sets of the following books to giveaway!
A RANDOM BOOK
ABOUT THE POWER
OF ANYONE
By TALIA LEMAN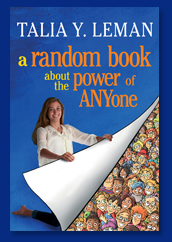 Prepare to be inspired from someone more than half your age!! When Talia Leman was just ten years old, she rallied students from four thousand U.S. school districts to report more than $10 million for Hurricane Katrina relief efforts.  Realizing the potential harnessed, she founded RandomKid, a nonprofit organization that brings youth together across the globe, providing them with innovative tools and resources to create positive change. Today RandomKid has unified the efforts of 12 million children bringing aid to four continents. In A RANDOM BOOK ABOUT THE POWER OF ANYONE (Free Press Paperback Original; October 2, 2012; $14.99), Talia Leman—now seventeen and a senior in high school—shows readers how to find their passion and make room for life's surprises, demonstrating that everyone has what it takes to make a difference for anything that matters to them.
Passionate about the potential we all have inside us, Talia writes, "The truth is, our power comes from being who we are, exactly as we are, and doing what we do, exactly as we are compelled to do it! When you spread value—by generously giving it away from the genuine place of you—people sit up, wake up, and pay attention."
In A RANDOM BOOK ABOUT THE POWER OF ANYONE, Talia explains why there is no better investment than kids. "When you invest in a youth project," she says, "you are not just investing in their cause, you're investing in them. I discovered when a person gives a dollar to a cause like the earthquake in Haiti, they give a dollar to that cause. But when they give that same dollar to a youth project benefiting that cause, those kids will take that dollar and turn it to $2, $3, $4. . . And sometimes more than $10. That's a 100 to 1000% return."
Filled with cute cartoon illustrations and a clever but cute writing style, this book will inspire you to put your best foot forward and start making a difference even if it's just in your own life. Talia makes you want to be a better person. This book is great for tweens and teens but perfect for just about anyone!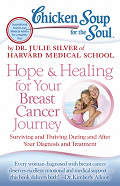 Chicken Soup for the Soul: Hope & Healing for Your Breast Cancer Journey
Surviving and Thriving During and After Your Diagnosis and Treatment
Inspiring Chicken Soup for the Soul stories and accessible leading-edge medical information from Dr. Julie Silver of Harvard Medical School. The stories in this book from women with breast cancer and their family members, along with the up-to-date medical information provided, will give you inspiration, strength and hope. This book will educate and comfort you and will serve as a support group from diagnosis through treatment to rehabilitation and recovery.

Check out these other BLOGFEST participants- Tami Brothers ~ Live, Love, Write!, Randomness from Mommyville, Feather's World, Reading Angel, JennRenee