Introducing… Halloween Fun!
On Newsstands September 11, 2012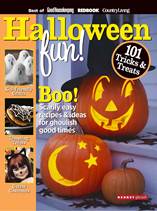 Craft enthusiasts take note!
Make this year's Halloween the most magical ever with spooky inspiration from Good Housekeeping, Redbook, and Country Living.  Whether you're throwing a monster bash or just decorating to get in the spirit, you'll find frightfully quick and easy ways to have a delightfully haunted holiday. 
What's inside?
*New takes on jack-o'-lanterns
*Boo-tiful cupcakes, marshmallow ghosts, mummy cakes, and other treats for little goblins
*Super-cute, simple costumes for kids—and even pets!
*Zillions of ideas for crafts and decorations for your home, from killer entrances to eerie touches throughout the house
 Halloween Fun! is available for $6.99 and can be purchased at your local supermarket, newsstand or bookstore. A digital edition is also available at Zinio.com or Nook.bn.com