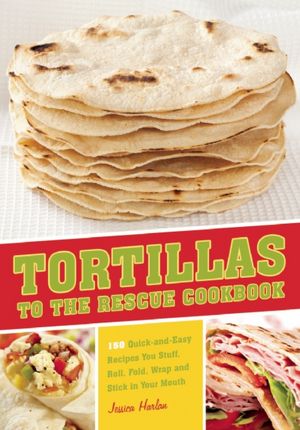 Every family has a list of staples they like to keep in the home, and tortillas is one of ours! We pretty much use them for any type of meat leftovers for wraps and the boys adore them with peanut butter, cheese and even hot dogs tucked inside. Much like bread, it's one of those items you want to have on hand.
I received a copy of Tortillas to the Rescue recently, which holds "100 quick and easy recipes" for tortillas! Can you imagine! I was surprised to see recipes for Tortilla-Crusted French Toast, Tortilla Soup, BLTA Tacos, Burger Pouches, Burrito Casserole and even Ice Cream Tacos!
So feeling inspired to use our tortillas for more than just left overs I scoured the book from cover to cover and chose something really different to try out, a dessert! On page 38, I discovered 'Shortcut Blintzes'. Not ever having even heard of a Blintz before, I knew I wouldn't have anything to compare it too put wanted to give it a go.  The recipe used cottage cheese, cream cheese,  icing sugar and cinnamon for the filling and cherry pie filling for the sauce. Not bad right? It was pretty good, but even baking it for longer than the required time I still felt it would be better crispier. So next time, I would leave it in a little longer maybe.
 
I used a second recipe as a guide for a BBQ and Slaw Wrap, only I used my favourite homemade coleslaw and left over shredded chicken in bbq sauce. I assembled the two together, like the recipe instructed and it made for one delicious wrap! Spicy and sweet, soft and crunchy- it really was a winning combo and we will be making our wraps like this again and again!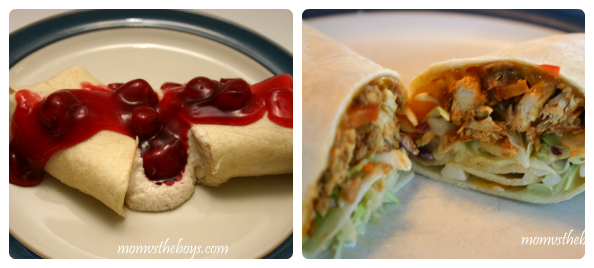 Tortillas to the Rescue, will teach you how to make your own tortillas but what I loved best is that all the recipes will work perfectly with the regular store bought ones as well! This is a perfect little gift for a student heading off to college, because anyone can make a wrap, even a teen!
Enter to win your copy below!
US/CAN