Save the date Mamas and Pops! The #PlaytexBabyShower Twitter Party is just for you! 
Playtex is throwing their first ever twitter party and it's going to be so much fun! On Thursday, September 20, 2012 from 8pm-9pm EST we'll be 'virtually' gathering all the Moms, Moms-to-be and Dads too, of course, to discuss our favourite topic- our kids! Special guest Cindy Zizek, Playtex Mommyville's resident RN and mom to be herself, will be joining us and there will be some pretty amazing Playtex gift baskets to win too! (prizes for Canadian addresses only)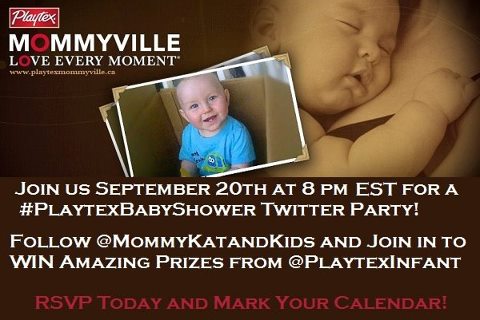 Date: September 20, 2012
Time: 8pm – 9pm EST
Twitter Party Hashtag: #PlaytexBabyShower
Host: @MommyKatandKids
Co-Hosts: @MommyMomentBlog – @MomvstheBoys – @MyWeeView
Sponsor: @PlaytexInfant
RSVP BELOW! See You There!
(For full details click HERE)