Just imagine how much money your family would save if you didn't have to pay for your groceries for a whole year! Kind of mind blowing right? With a family of five here to feed, we pay A LOT for groceries even though we are always buying the sales and cutting the coupons too. Free Groceries??? Now that's a dream come true!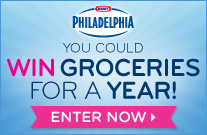 How You Can Win $10,000 in Groceries!
* Sign up for the Real Women of Philadelphia online community and automatically be entered into the sweepstakes. 

* Simply join the community and visit the site daily. Every time you post a comment anywhere on the site you automatically receive an entry to a maximum of 1 entry per day for 21 days.
Prizes!
Three (3) Grand Prize Winners will be selected to receive "Groceries for a Year," awarded as $10,000 in gift cards from the winner's favourite grocery store.
Five (5) winners will also be awarded Free Philly for a year in the weekly draws
What is the Real Women of Philadelphia?
Well, you don't have to live in Philly that's for sure! The Real Women of Philadelphia is an exciting online community for people who love to cook. You can connect with cooking enthusiasts and food lovers from across the country in the Forum, share and exchange recipes, and learn valuable cooking tips from experts like Anna Olson. With the holiday season right around the corner, be sure to check out recipes from appetizers like Mini Florentine Bites to delicious desserts like the Salted Caramel Cheesecake (holidays are no time to count calories!)
Contest opens October 15th,, 2012 and ends November 4, 2012.
 disclaimer: This is a paid post.