Mom vs. the Boys has been nominated for a Canadian Blog Awards under Best Family Blog!
I would love your vote!
It's quick and easy with no registration required and just one vote should hopefully put me into the next round, no daily voting! 
But the competition is tough, Canada boasts a number of amazing blogs! 
Vote now!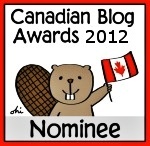 VOTE MOM VS THE BOYS FOR BEST FAMILY BLOG!
Round One ends Nov 1 2012
Thanks for your support!