Parents really are the unsung heroes of Halloween, we are the ones who rush out to buy the costumes and candies, decorate, send goodies for classroom parties and get slimy carving pumpkins. But this is 2012 and we have it pretty easy actually! When I was little it was up to my poor mom to come up with something creative and fun and she couldn't just pop over to the local store to buy it! She sewed and crafted far more than she ever wanted to, I imagine and that is the real hero of Halloween right there! She even whipped herself up a costume most years and handed out candy in disguise! Yes, my mom had more Halloween spirit than I do for sure!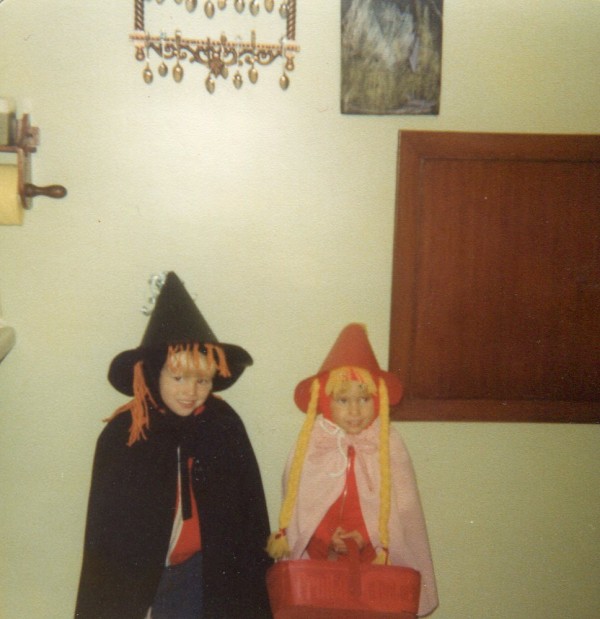 Here's a fun shot of the early years! This is my brother and me ready to head out for tricks and treats. My brother is dressed up as a witch with orange hair apparently, and I think I am supposed to be Little Red Riding Hood, even though my hood looks more like a witches hat too! lol oh well, can't say I would come up with anything better for my own boys! 
What's Your Favourite Halloween Moment?
 
Nestle has launched the "My Favourite Halloween" contest on Facebook, where sharing your favourite Halloween photos gets you entered to win $2,000 worth of Nestle chocolate for their street for Halloween! Talk about being the favourite house on the block!!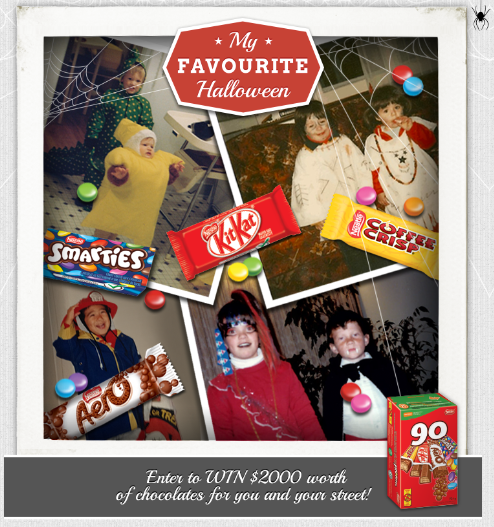 The contest is live now on the Smarties, Aero and KitKat Facebook pages. Users will be able to submit their favourite Halloween photos, add a caption, share their photo, and tag friends. All submitted photos will live in an interactive gallery (similar to Pinterest)
A judging panel (comprised of Nestlé, Colour and Influencers) will select 10 finalists who will be showcased in a finalist's gallery and are challenged with the task of raising the most votes. The picture that gets the most votes wins the grand prize- and you already know what's at stake right? $2000 worth of chocolate!!! There will also be daily prizes as well!
Hurry, the deadline for submitting photos is October 8th. The winner will be announced on October 24th after the voting round. Contest open to Canada only 
Disclosure – "I am participating in the Nestle program by ShesConnected.  I received compensation in exchange for my participation in this campaign.  The opinions on this blog are my
own.