Halloween is literally around the corner! Are you ready? Got the costumes? the Candy? the Nails???
OPI can help with the last one! OPI introduces So So Skullicious in time to get all knocked out for the Halloween season!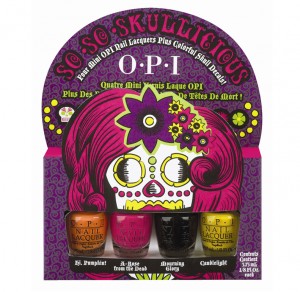 Celebrate the lives of the dearly departed with OPI's festive Dia de los Muertos-
inspired shades. So So Skullicious comes with 4 mini bottles of nail lacquers plus a set of 10 fun and funky decals. The decals are super easy to apply and go similar to a child's temporary tattoo. Start with an OPI shade of your choice, cut around the decal, get it wet for a few seconds, slide it onto your nail, blot to dry, and cover with a shiny to top coat to seal it all in!
Colours in this set include:
Hi, Pumpkin!: This jack-o-lantern orange is sweet on you
A-Rose from the Dead: This hot pink is the life of the Halloween party
Mourning Glory: A black so shiny, it will lift your spirits
Candlelight: Be all aglow in this flame yellow
Nothing says Halloween, like Orange and Black so I couldn't resist a Hi, Pumpkin! and Mourning Glory combo. The Black went on really well in just two covering coats but the orange was a little thinner. It was okay with just two, but would look even better with three coats. Applying the decals was fun and easy. Here's how it turned out: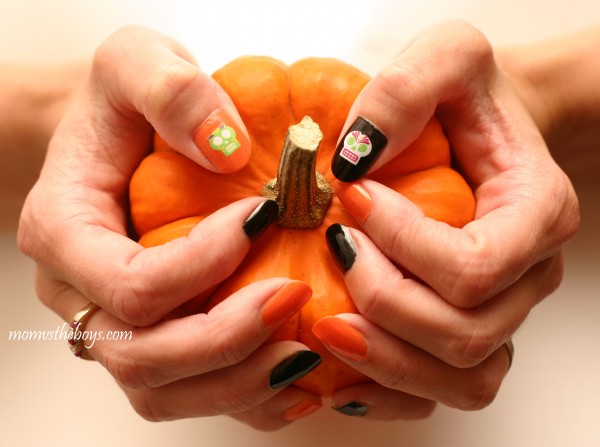 The set is available for a limited time only, get yours now! Even better, you can win the full set below! (open to Canada only)