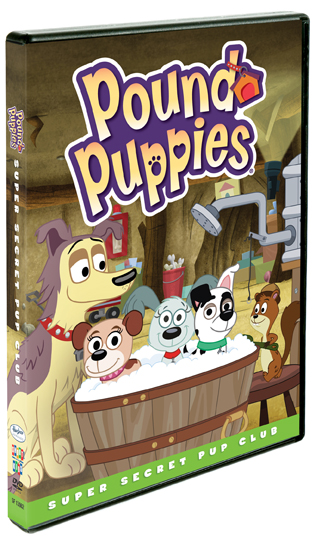 Guess, who's back on DVD? Everyone's favourite pups! The Pound Puppies! 
"A pup for every person and a person for every pup!" That's the motto for the Pound Puppies: Lucky, Niblet, Cookie, Squirt and Strudel- a team of fearless canines whose sworn mission is to find homes for lonely dogs. However, when the Pound Puppies get too busy, the younger puppies, Rebound, Cupcake and Patches form the Super Secret Pup Club to help out with the missions!
On October 16, 2012, Pound Puppies: Super Secret Pup Club will arrive on DVD from Shout! Factory Kids in collaboration with Hasbro.  The DVD set features five exciting Pound Puppies adventures and also contains  all-new bonus features, including Learn to Draw Rebound.
Winner of the 2012 Humanitas Prize in Children's Animation, the Pound Puppies series is currently airing on The Hub in the U.S. and YTV in Canada.
Episodes Include:
Bone Voyage 

Mutternal Instincts

The Fraud Princess

Super Secret Pup Club

Ruff Ruff Bunch