This is totally aging myself but E.T. holds as special place in my heart as the first movie I ever saw in a theatre! Last weekend was a defining moment as we sat down for a movie night with our own boys to watch E.T. again on DVD!
When I posted that info on facebook I was met with quite a few responses on how it was a first for many of you, even at the drive in movies! Some of you mentioned that the movie scared you as kids, but that certainly wasn't the case for me or my boys, we loved it! My brother and I even had large E.T stuffies that we carried around the house and I'm pretty sure one of them is still there! I can't wait to get back to my parents house and dig for it, so I can give it to my boys! I never thought I would see the day that my boys were excited about E.T.!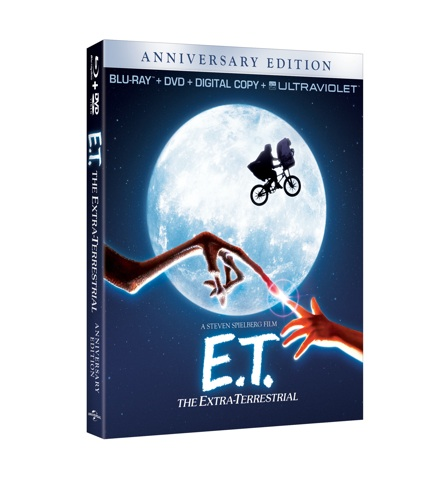 Steven Spielberg's Unforgettable Adventure Debuts in A D
igitally 
R
emastered 30th anniversary 
Edition
Blu-ray™ Combo Pack With Blu-ray
™
, DVD, Digital Copy & UltraViolet™ 
October 9,
 2012

In 1982, E.T. The Extra-Terrestrial became the biggest blockbuster of the year, debuting at number one around the world. A testament to its enduring appeal, it remains one of the most successful, well-loved films for the past three decades and will continue to inspire generations to come. Featuring an all-new, digitally remastered picture that delivers six times the resolution of DVD, as well as all-new 7.1 surround sound, the E.T. The Extra-Terrestrial Anniversary Edition Blu-ray™ Combo Pack includes the 1982 theatrical movie, an all-new interview with director Steven Spielberg, and "The E.T. Journals" featuring never-before-seen footage from the set of the film. The Blu-ray™ Combo Pack also includes UltraViolet™, a DVD and a Digital Copy ofthe film, offering fans a chance to relive the mystery, laughter and wonder of the iconic movie anytime, anywhere on the platform of their choice.
 If by some strange reason you haven't seen E.T. or just a want a peak for a refresher, Take a look at Elliot and the adorable Gertie played by Drew Barrymore below:
For the record, there was a few scenes that made me cringe a little, and I do remember at least one swear but my boys didn't seem to notice. Use your own discretion for allowing your children to see E.T. or not depending on their age and maturity levels and your own comfort.