October is painting the town pink!
Since it's October the first and the start of Breast Cancer Awareness month I thought it was appropriate to share with you all, one of my favourite pink products for the month- Tic Tacs!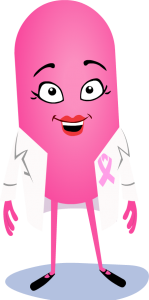 In support of Breast Cancer Awareness month in October, Tic Tac Canada has donated $25,000 to the Breast Cancer Society of Canada and has launched a limited edition sweet and tart Strawberry Fusion flavour that hit store shelves on September 1st.  The Breast Cancer Society of Canada is a registered, national, not-for-profit, charitable organization dedicated to funding Canadian breast cancer research for the detection, prevention, treatment and to ultimately find a cure for the disease that women fear most.  
For all of September and October, the Tic Tac Canada Facebook Page (link: http://www.facebook.com/TicTacCanada) will be posting pink-related promotions.  They have even designed a new Tic Tac character to represent their support for the cure!
Have you seen the new tic tacs yet? Give them a try and support companies who donate to Breast Cancer research.