Well there's Cat people and there's Dog people right? Which one are you?? 
I am definitely a dog person, I wouldn't trade my chocolate lab for any cat in the world, but I know there are a few of you who would argue the other way! 
No matter! I have three copies of each new book from Chicken Soup for the Soul to giveaway!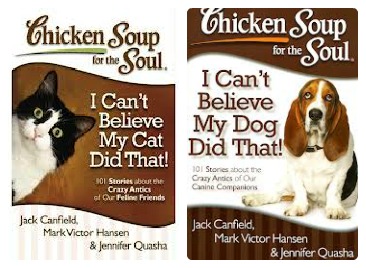 101 Stories about the Crazy Antics of Our Canine/Feline Friends
We all rejoice in the simple absurdities, funny habits, and crazy antics of our dogs. They make us smile every day, but sometimes they really outdo themselves. You will love reading all the heartwarming, inspirational, and hysterical stories in this book. We know after reading the stories you'll say, "I can't believe a dog (or cat) did that!"
Enter Below
US/CAN