The long awaited Oz the Great and Powerful is finally out on the big screen, but you can carry a little bit of OZ whimsy wherever you go right on your finger tips with the OPI collection!

What Wizardry is This? – a textured, matte finish infused with reflective sparkle.
Lights of Emerald City – White confetti adds city girl flair and style to nails.
Don't Burst My Bubble – Don't wake me…I'm dreaming about puffy clouds of white.
When Monkeys Fly! – I'm simply bananas for this gold confetti.
Glints of Glinda – Only a good witch could turn beige from meek to chic.
Which is Witch? – Is this silver glitter with iridescent sparkle or the other way around?
I Theodora You – This adorable, sheer pink is bewitching on you.


I'm not big on light pinkish nail colours, so a few in this collection are not for me on their own, but they still make good layering pieces. One thing this collection definitely has is sparkle! Which Witch is Witch and Lights of Emerald City look really pretty! I have to say that When Monkeys Fly! looks really amazing in the bottle, but didn't perform well when on. First off, the sparkles are just really huge!  I tried this one over OPI's Warm and Fozzie which I already had on my toes and is a nice brown colour. It matched really well with the gold flecks but the sparkle size was off, one glint of sparkle took up my entire baby toe nail and the pieces themselves didn't want to lay flat. 
Liquid Sand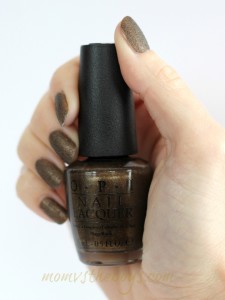 My favourite of the bunch is definitely What Wizardry is This?, by name alone but also because it was brilliant! I'd never actually seen Liquid Nail Polish before and was eager to give it a try. The texture definitely mimicked sand while applying and dried to a rough finish. The first day the texture kind of bothered me, but I found by the second day the roughness had subsided a bit and it had a bit more smoothness to it. The colour, a deep gold/brown was gorgeous! I loved the matte finish and the subtle sparkle. In fact, it looked best in low lighting, the gold flecks sparkled beautifully- this one would look amazing at an evening party. I really loved the matte finish on this one but I did come across the polish with a top coat and it looked amazing too, check out The PolishAholic to see a swatch with a clear coat. I'll be trying it like that next time. 
Check out the Oz the Great and Powerful trailer and then enter below to win the whole OPI OZ set yourself!
Canada only