Even though there are still some snow left on the ground, Spring is right around the corner! I can feel it, and I can hear it! Birds are starting to chirp outside my windows once more!
Pretty soon we'll be searching our closets and cupboards for extra space to store warm sweaters, extra blankets and winter coats until Jack frost comes nipping at our nose late next Fall. Where do you find the room? It seems like year after year we accumulate more stuff and our closets start busting at the seems!
Ziploc is here to help de-clutter the home and reclaim precious space with the new Ziploc Space Bags collection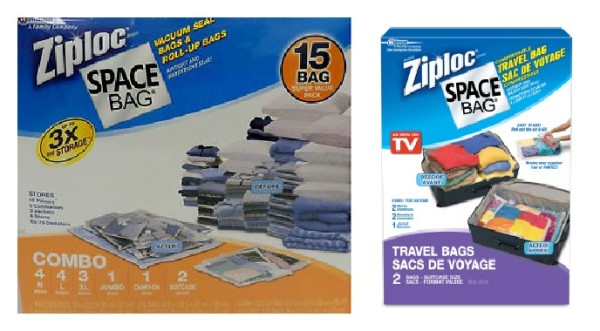 The genius space saving bags come in a variety of sizes and shapes, so you'll find the perfect bag for all your storage needs. Whether it's extra blankets or pillows that only guests use or heavy sweaters that need to fit into suitcase, there really is a bag for everything. 
Depending on which bag you choose, they work in two ways. Smaller bags for suitcases can be rolled to remove excess air, and larger bags have a valve to place your vacuum into to literally suck every last breath of air out of the bag and really shrink it down in size!

I had a lot of fun moving my way though the house trying the bags out on all kinds of items we are storing. Especially our overflowing linen closet! I really liked the cube shapes for items like towels and sweaters, but the large flat bags worked great on blankets. Above you will see a picture of three large fleece blankets that take up a whole drawer in our dresser. After a good suck with the vacuum, they were flattened to just over the thickness of one blanket! This leaves me with tons of extra room in the drawer or it would neatly tuck under a bed as well. It's completely protected from any dust or moisture being sealed tight in the bag! The picture lower has my handy helper showing you a large bag filled with almost 15 kids beach and bath towels, before and after!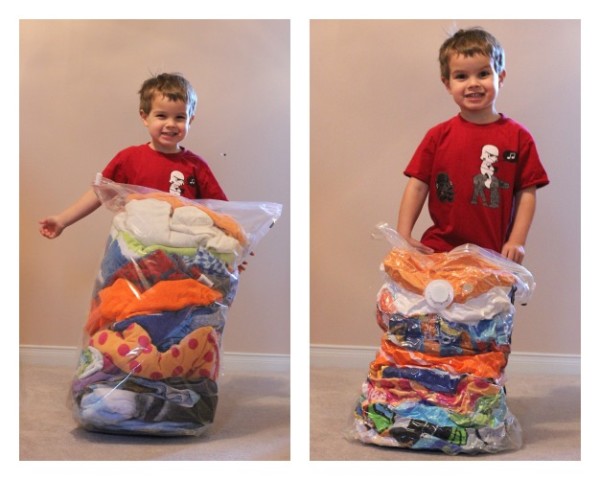 I'm looking forward to using the hanging bags to store all of our winter coats in this year, just a couple more weeks and we should be switching them out for lighter Spring jackets and our closets won't burst now when we put them away slimmed down in a Ziploc Space Bag.  If you have a move coming up soon, these bags are a must have item for moving day! They will save so much space when packing up clothes, blankets, pillows etc. and the items will stay clean in the back of dirty trucks hauling your belongings. 
Ziploc is giving one of my readers a chance to kick their Spring cleaning into high gear this year with a Ziploc Space Saving Prize Pack featuring some amazing Ziploc essentials:
Gift basket will include the following
An assortment of Ziploc Space Bags products:
Combo Assortment Pack
Jumbo Bags
Cube Bags
Hanging Suit Bags
Travel Bags
A selection of complementing products such as:
Multi-Use Hanger for ties and scarfs
Vertical Shoe Rack
Hanging Shelf Organizer
Decorative storage bins and drawer organizers
Iron holder
Cleaning hooks
Enter Below! 
Canada Only