I've started to notice those first few signs of Spring here in Ontario! While our lawn is still mostly covered in snow, there are signs of life still. Bulbs poking themselves out of the dirt and the songs of birds are in the air! I don't know about you, but this gets me really excited for barbeque season and fresh Summer salads! The arrival of the new Kraft Pourables salad dressings has me more excited than ever!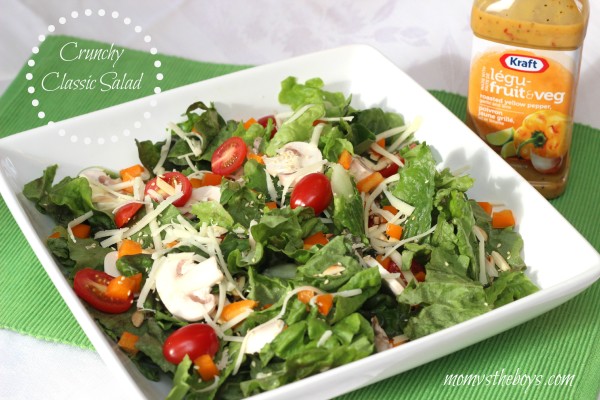 Crunchy Classic Salad with Kraft Pourables #NewPourables
Prep time:
Cook time:
Total time:
Ingredients
1 cup slivered almonds
2 tbs sesame seeds
1 head romaine lettuce, torn into bite sized pieces
1 head red leaf lettuce, torn into bite sized pieces
¾ cup cherry tomatoes, halved
6-8 fresh mushrooms, sliced
1 small red onion, thinly sliced
1 orange pepper, diced
1 cup shredded mozzarella cheese
Kraft Roasted Yellow Pepper, Garlic and Lime Salad Dressing
Instructions
Heat the almonds in a medium skillet over med-high heat, stirring frequently, until lightly browned. Be careful, nuts can burn quickly.
Just before almonds are ready, add in sesame seeds and cook one minute more until seeds are toasted.
In a large salad bowl, combine lettuce with almonds, sesame seeds, tomatoes, onion, pepper, mushrooms, and cheese.
Toss with salad dressing.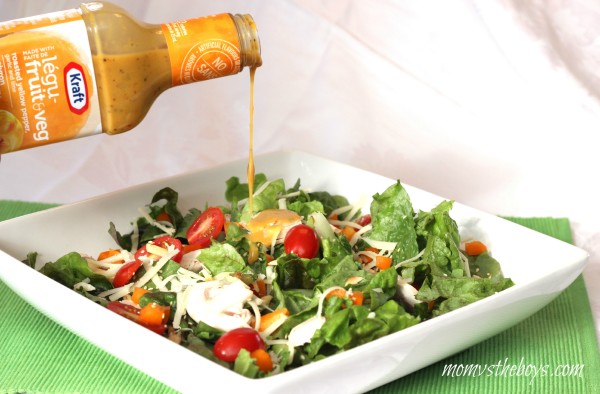 Kraft Pourables have a bold fresh taste and are made with real fruits and vegetables.
They come in four amazing flavours –
Berry Balsamic
Roasted Yellow Pepper Garlic and Lime
Fire Roasted Tomato with Basil
Garlic Parmesan with Roasted Cauliflower
While the new Salad Vinaigrette flavours are made for salads, they actually can be used in several different ways. The label of each bottle gives you a little tip on how else to try that particular one. I tried the Garlic Parmesan with Roasted Cauliflower in my mashed potatoes with a little bit of sour cream and it was amazing! I bet you can think up all kinds of great ways to use each one!
Need a little inspiration? Visit the Salad Centre on the Kraft Canada website and try your hand at the salad creator!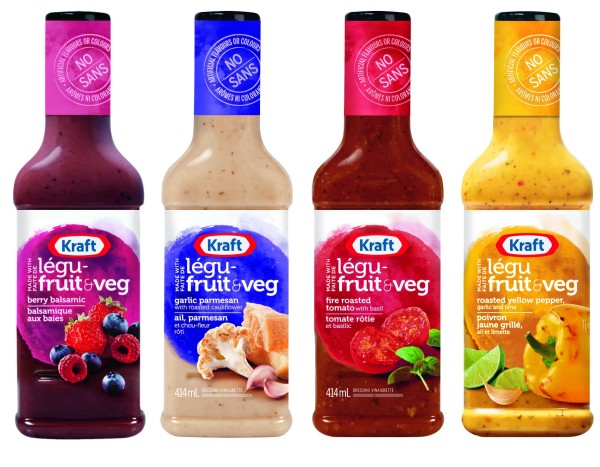 Have you had a chance to try any of the new Kraft fruit and veg flavours yet?