Traveling with a large family can be tough, and while I don't really consider our family of 5 all that 'large', the commercial world does. In the past we've actually been turned away from hotels for exceeding their 4 person room limit and when we do stay in hotels we almost always have one of the kids on a blow up mattress on the floor. That can be okay for one night, but it's not ideal for a longer stay. We knew we were going to have to come up with a better plan for our full week's stay in Kissimmee, Florida.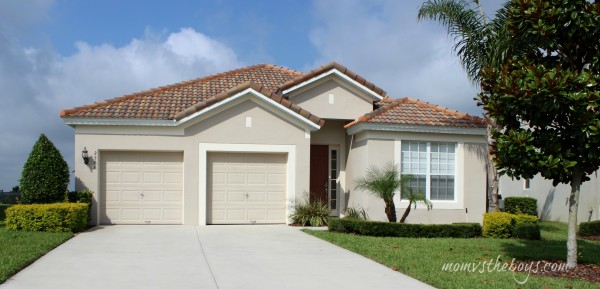 Global Resort Homes
Global Resort Homes manages over 300 homes in the Orlando area, so there was no shortage of properties to choose from! Glancing through their website we were impressed with all the gorgeous accommodations and communities, and right away we fell in love with Windsor Hills. We spent our stay at 2568 Archfeld Blvd, a 4 bedroom, 4 bathroom house that included a games room and a private pool. Our family of 5 had plenty of room to spread out and claim our own space! We even had a spare room we didn't even use!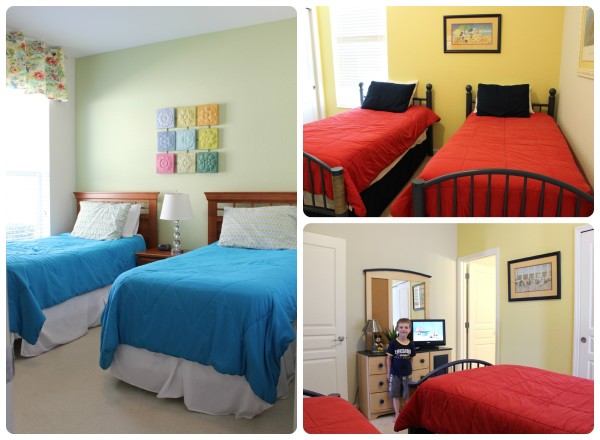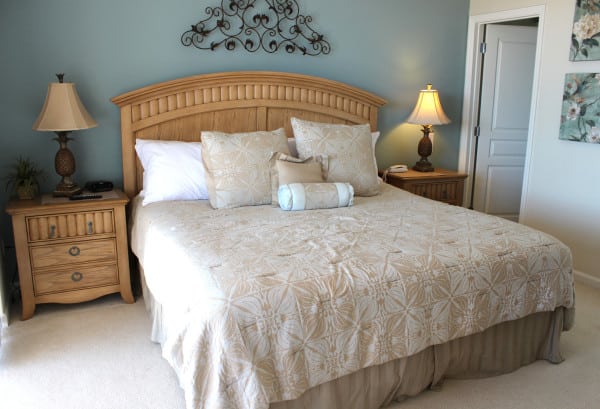 Time to rest!
We had two rooms set up for kids, both with two single beds. Our two little guys shared a bedroom and my big boy stayed on his own. Each bedroom had it's own bathroom and tv. The boys loved having a tv in their rooms and we would often find them cuddled up with their blankets taking in some down time. The bedrooms even came equip with nightlights, which was appreciated!
The bedroom we didn't use had a Queen bed and the best view right off of the pool, but Hubs and I set up in the room at the front of the house because there is nothing better than a nice big King size bed!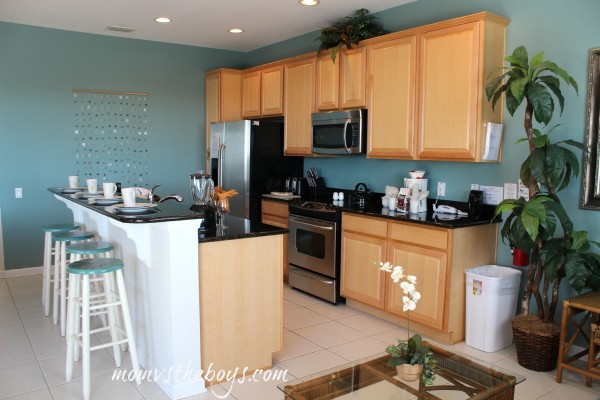 Time to eat!
There were a number of places to pull up a seat! The dining room had a large glass table set for 6, but we ate all of our meals on the patio out by the pool! The screened in pool area made for a relaxing, bug-free place to enjoy our meals. The kids enjoyed eating breakfast on the tall stools at the kitchen island.
The kitchen was amazing! I loved the ice-making double door stainless steel fridge and matching stove. We were able to store a supply of beverages and food, including ice cream and freezies for the kids. We cut costs and made a number of meals at the house and found everything we needed to cook with, including pizza cutters and ice cream scoops!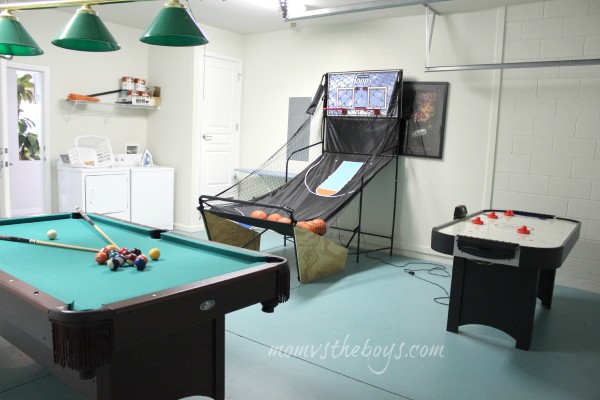 Time to Play!
The last thing you want your kids nagging about on your holiday is 'what can we do??'. This is another big difference of a vacation home with Global Resorts vs. a regular hotel room, there was plenty for the kids to do! Not once did the kids complain about being bored during any down time. In the garage is a whole games room set up with basket ball hoops, air hockey, and a pool table. This is also where you will find the laundry facilities, and yes, we used that more than once! 
But the pool was our most popular spot in the house and we spent many a lazy afternoon or evening relaxing in the pool! It was well used and loved during our stay! The kids were really excited to find pool noodle toys already at the house for them to play with and we could not believe how warm the water temperature was! There is something magical about swimming in a warm lit up pool in the dark! After we tucked the kids in bed, it was so relaxing to slip into the hot tub with a glass of wine and recap our days. 

Besides all the great amenities at our own house, there was more fun to found around the Windsor Hills community grounds. Near the main gates you will find a huge lagoon-style pool complete with water slide and a grand children's playground. We spent a fun morning at the main pool and an evening at the gorgeous park. The kids had a blast playing on the castle structures and riding the sea serpent. The landscaping was so pretty and the whole area was so peaceful it was a nice evening even for mom and dad.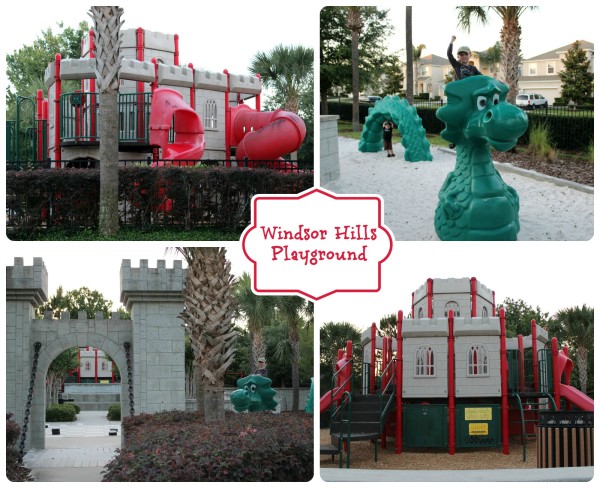 I cannot even express the level of sadness our family felt when our week came to an end and it was time to leave Windsor Hills. Our stay with Global Resort Homes was one we won't soon forget and can't wait to plan our next trip back to Florida to stay with them again!
Visit the Global Resort Homes website to check out other other properties and communities that are available and be sure to follow along with them on Twitter and Facebook where they often post amazing rental deals! Keep your eyes open! 
disclosure: We received a complimentary one week stay with Global Resort Homes, however, all opinions expressed are honest and my own.