Last year Hubs and I had a little 'ranch off' in the kitchen as we competed against each other to come up with the best recipe using Hidden Valley Ranch dressing. Well, he won. So this year, I didn't invite him to compete, because well, I'm a sore loser like that lol But he enjoyed my creations just the same!
Here's how I Ranchified some old Classics!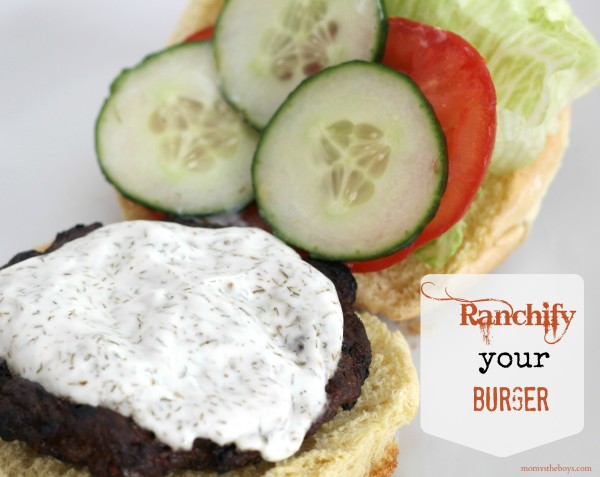 Garden Ranch Burger
Ingredients
1 lb Ground Beef
½ pkg onion soup mix
1 tsp minced garlic
½ tsp hot pepper sauce
1 tsp chili powder
1 tsp ketchup
1 egg
1 tsp worchestershire sauce
2 Tbs of green onion
1 Tbs italian bread crumbs
1 Tbs Hidden Valley Ranch dressing
3-4 Kaiser rolls, sliced in half
Variety of garden veggies - cucumber, lettuce, tomato, alfalfa sprouts, avocado, dill pickle slices
Sauce:
¼ cup Hidden Valley Ranch dressing
¼ cup chopped fresh dill (you can use dry herbs as well, but fresh is best)
Instructions
Mix the first 11 ingredients together in a large bowl and form 3-4 burger patties
Grill on BBQ until they reach your preferred degree of doneness
In a small bowl, mix Hidden Valley Ranch dressing with fresh chopped dill
Dress burger with ranch sauce and top with as many garden greens as you like
ignore the fact that my burger was overdone and missing some crunchy alfalfa sprouts, we had a kid crisis in the middle of cooking! The ranch/dill sauce is so fresh and tasty! We use this a lot for burgers and turkey burgers. 
Okay ready to fill the other side of the plate? Every burger deserves a good side!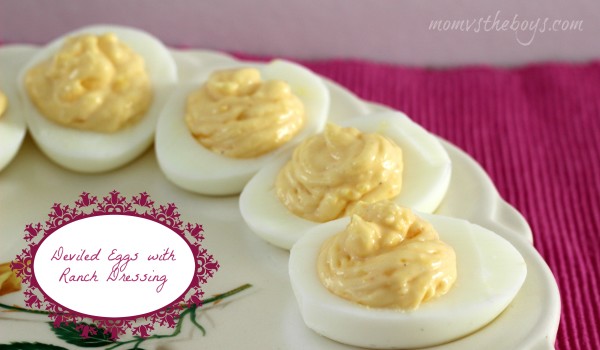 Deviled Eggs with Ranch Dressing
Ingredients
18 hard boiled eggs
1/2 tsp Onion Salt
1/2 tsp garlic powder
1 Cup Mayo
2 Tbs Hidden Valley® Classic Cheese Ranch dressing
1/2 tsp mustard
Directions
Cut eggs in half
Scoop out egg yolks into a bowl and mash with a fork
Add all other ingredients and mix well
Spoon mixture into a sealable plastic bag (ziploc) and snip one corner off
Pipe yolk mixture into the empty egg whites
Okay, now that my dinner is served, we are sending off the recipes to be judged by Chef Ned Bell! Super exciting right!  Wish us luck!