I haven't made a lot of pies in my day, mainly because they aren't one of my favourite things to eat. If I'm going to eat dessert, there better be chocolate in it, jus saying! lol But Hubs loves pie and after a long string of birthdays we were tired of cake, we decided on a Pecan Pie for Father's Day.
Now, to figure out how to make the easiest Pecan Pie out there! lol I already had a Tenderflake pie shell in my freezer so I knew I was totally cheating on the crust and found this recipe over at AllRecipes.ca that sounded simple and tasty and it turns out it was! I liked that it did not have any corn syrup in the recipe, where most of the other recipes I looked at did. I adjusted the cooking temp based on some comments and I think this is the best way to go about it below. You could also go ahead and add 1/2 a cup of chocolate chips! Told ya, dessert should have chocolate! 😉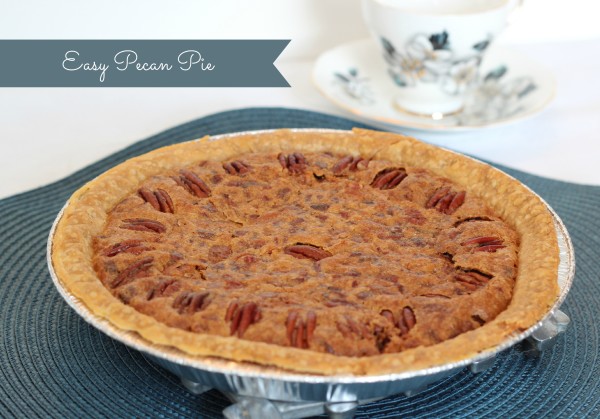 Easy Pecan Pie
Prep time:
Cook time:
Total time:
Ingredients
1 cup light brown sugar
¼ cup white sugar
½ cup butter
2 eggs
1 tablespoon all-purpose flour
1 tablespoon milk
1 teaspoon vanilla extract
1 cup chopped pecans
optional: ½ cup chocolate chips
unbaked 9-in pie shell
Instructions
Preheat oven to 400 degrees F (205 degrees C).
In a large bowl, beat eggs until foamy, and stir in melted butter. Stir in the brown sugar, white sugar and the flour; mix well. Last add the milk, vanilla and nuts (and chocolate chips if you are using them).
Pour into an unbaked 9-in pie shell.
Decorate top with pecan halves if you desire
Bake in preheated oven for 10 minutes at 400 degrees, then reduce oven temp to 350 baked for 20 additional mins, reduce oven temp to 325 & bake an additional 10 mins until middle of pie settled.