The last couple years we've spent New Year's Eve out in the cold at family countdowns, but this year we decided to spend it tucked in front of the fireplace watching movies with the kids. Hubs had been down and out with the flu anyway and we were perfectly happy to keep cozy with some hot apps and fun treats. I played around with some recipes and created our very own Greek Pinwheel Apps, that turned out so delicious I had to share! They come out of the oven warm and crispy and taste amazing! Some of us dipped them into a little sour cream, but they are awesome all on their own! Opa!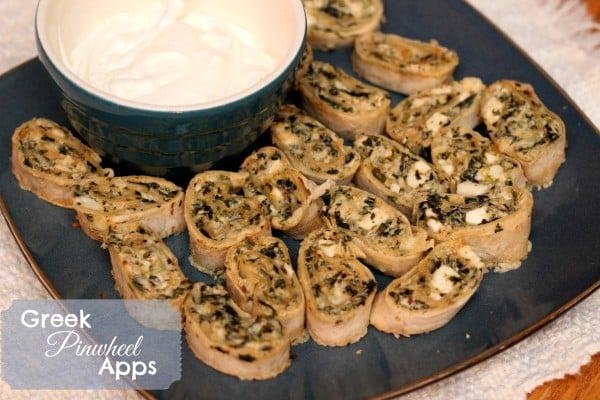 Greek Pinwheel Appetizers
Prep time:
Cook time:
Total time:
Ingredients
1 tub (250g) Cream Cheese
2 tbs grated parm
1-1/2 tsp oregano
1 tsp parsely
¼ tsp thyme
¼ tsp basil
¼ tsp pepper
1 tbs tomato pesto or roasted red pepper pesto
1 cup crumbled feta cheese
1 cup shredded mozzarella cheese
1 cup frozen chopped spinach, thawed and drained
2 green onions
4-5 large tortillas
Sour Cream for dipping, optional
Instructions
Mix all ingredients except tortillas until thoroughly blended
Spread onto tortillas and roll each one up
(you can wrap individually with plastic wrap and refrigerate for later, or cook now)
cut into even slices; discarding the ends.
Place on a parchment lined baking sheet
Bake for 10 min, turn half way through
Heat oven 375F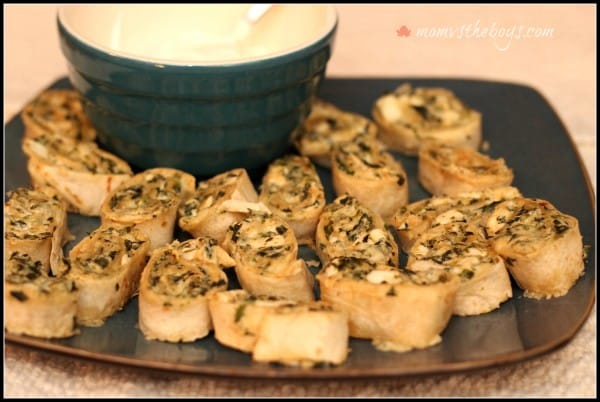 Opa!