Weeknight dinners can be rushed and boring, and side dishes to be honest get a little stale around here. I have come up with a simple way to dress up a can of green beans so that you forget you are eating the same old thing! No really, if you are tossing together dinner and are at a loss for what to do for the veggie, this is really as easy as it gets and tastes really good, it even looks a little fancy too! Go ahead, dress those beans up! My husband is always a little impressed with these!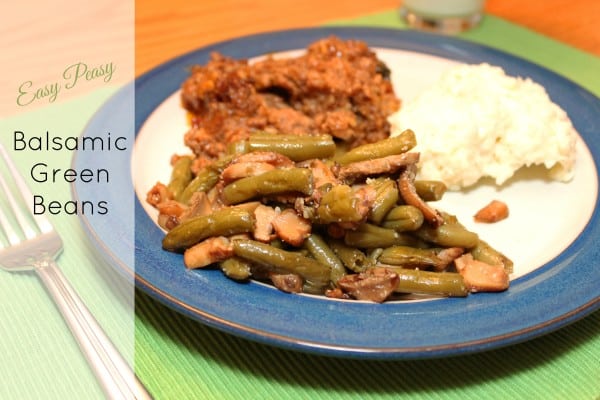 Recipe type:
side dish, vegetable
turn a boring can of green beans into something fabulous!
Ingredients
1 can of cut green beans, drained
1 can of mushrooms, drained
1½ Tbsp Olive Oil
1 Tbsp Balsamic Vinegar
Pinch of salt and pepper
Parmesan Cheese, grated
Instructions
Whisk oil and balsamic vinegar together in a small bowl.
Pour beans and mushrooms into a medium ziploc bag, pour oil and vinegar mixture on top, close the bag and toss. Leave to marinade for a bit if you choose.
Arrange onto a small cookie sheet.
Bake at 450 F for about 20 min.
Season with salt and pepper, sprinkle with cheese and toss.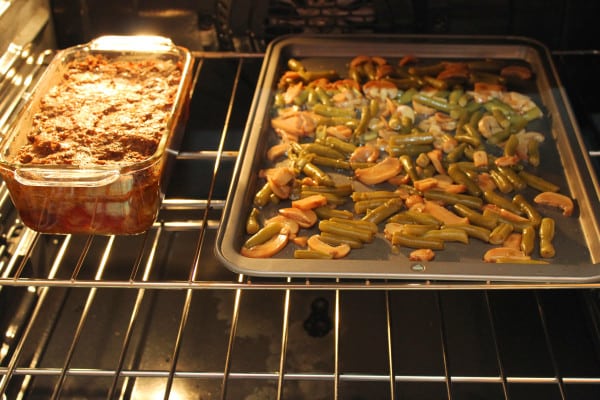 Sometimes I let the beans sit and marinade for a bit and other times I dont. Either way they taste good. These fit right in the oven nicely  next to a meatloaf like you see above. I'll prep both the meatloaf and the beans at the same time and let the beans sit in the marinade until the meat is half way done. Then I prepare the beans on the tray and cook for the final 20 minutes of the loaf and everything is done together.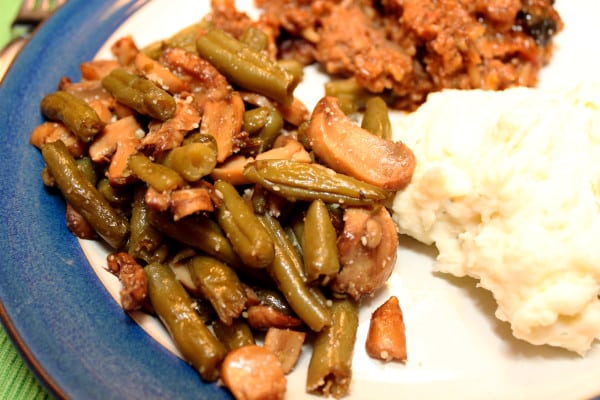 Do you have a favourite way to cook green beans? Share with me below!