As much as I love to cook and bake, there are still a number of things that intimidate me in the kitchen! Spring rolls are one of them, they just look so darn hard to make and I honestly had no idea where to start, but I was up for the challenge! As a Blue Dragon Mom, I was sent a few products to try out and the scary err… intriguing Spring Roll Wrappers were among them, I was excited and nervous, but ready to tackle them head on!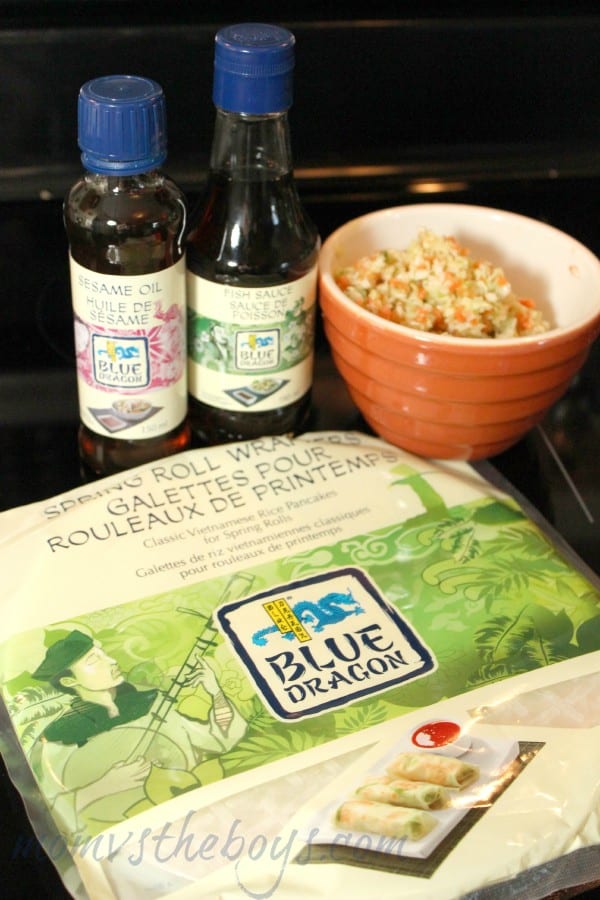 We are carnivores around here, so I knew I wanted to make spring rolls with meat. As it turns out, these are the perfect way to use up leftover pulled pork! 
Baked Pork Spring Rolls
Ingredients
1 cup finely shredded cabbage
1½ cups shredded pork
¼ cup finely shredded carrot
2 green onions, thinly sliced
2 tsp grated fresh ginger root
1½ tsp minced garlic
½ Tbs Blue Dragon fish sauce
1 tsp Blue Dragon sesame oil
8-12 Blue Dragon Spring Roll Wrappers
1 Tbs water
1 Tbs cornstarch
4 tsp vegetable oil
Blue Dragon Sweet Chilli Heat Sauce for dipping
Instructions
Preheat oven to 425 degrees F (220 degrees C).
In a medium bowl, mix together pork, cabbage, carrot, green onions, sesame oil, fish sauce, ginger, garlic.
Mix cornstarch and water in a separate small bowl.
Per packaging instructions, place wrapper into hot water until soft and pliable (this only takes a few seconds).
Remove wrapper and place approximately 1 tablespoon of the pork mixture in the center of spring roll wrappers. Roll wrappers around the mixture, folding edges inward to close. Moisten fingers in the cornstarch and water mixture, and dab on wrapper seams to seal.
Arrange spring rolls in a single layer on a medium baking sheet. Brush with vegetable oil on both sides. Bake in the preheated oven 20 minutes, until hot and lightly browned. Turn once halfway through.
serve with Sweet Chilli Heat Sauce on the side for dipping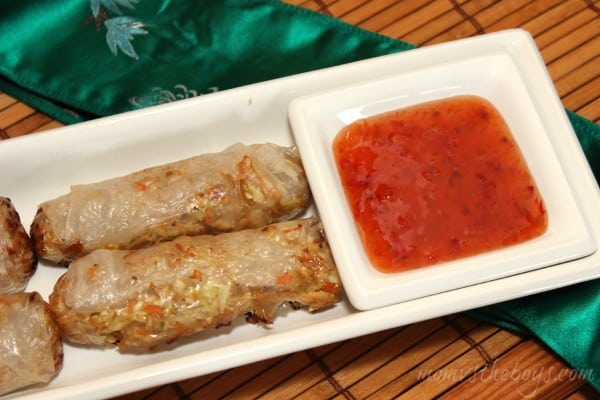 I was pretty impressed with myself! It was a fun dinner for Hubs and I to create together over a glass of wine and the spring rolls turned out really well and tasted great! I really liked that this recipe is baked in the oven and not fried, it goes nicely with our plan to eat better without sacrificing taste!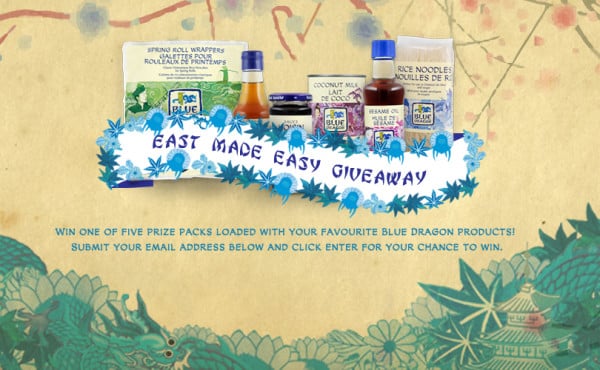 Follow Blue Dragon on Facebook and Enter to win your own Prize Pack full of Blue Dragon products!!
Contest ends July 20th
Disclosure:I am part of the Blue Dragon Ambassador program with Mom Central Canada and I receive special perks as part of my affiliation with this group. The opinions on this blog are my own.