My big guy turned 8 recently and since his party was just a few days after our return from Turks and Caicos Islands, I wanted to keep things as simple as possible. The boys have only been to Chuck E Cheeses once and it was a few years back, but they have never forgotten and often ask to go again. For his birthday we decided it would just be a lot easier to take a couple of boys to Chuck E Cheeses with us than try to plan anything here at home. It was a win-win all around, the boys were ecstatic and other than surviving a drive with 5 boys in the car, it was pretty easy for me too!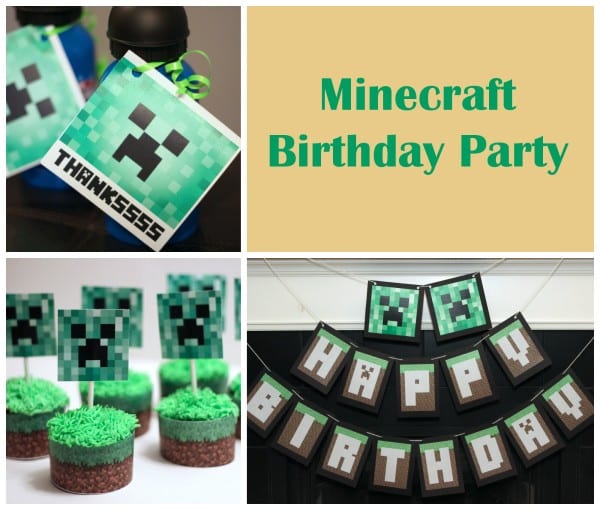 I still wanted to make the day special for my son though so I scoured the web for some super simple Minecraft ideas that we could incorporate into the party. Even though the party wasn't technically at our house, the party guests still arrived at our door and spent a few minutes inside before we left. I put together this fun Minecraft Birthday Banner to decorate our fireplace, all three of my boys love minecraft and have all of their birthdays within 2 weeks, so it stayed up until the last boy had his birthday (who am I kidding, it's still up, I've been to lazy to take it down!) Follow the link to grab the free printable to make one of your own! I printed the banner out on white computer paper and glued each piece to black cardstock, punched a hole into each corner and threaded yarn through. You could make one long banner with a creeper face on each end or break it up into pieces like I did below.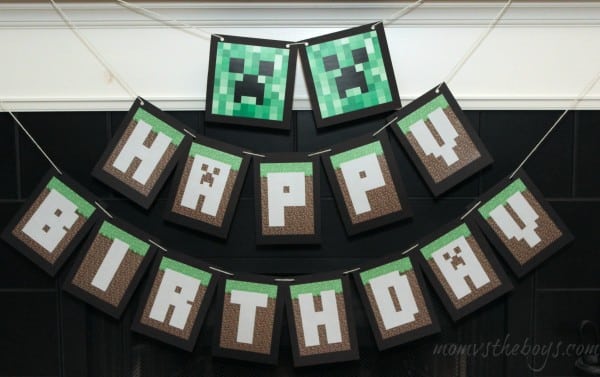 Chuck E Cheese's is nice enough to allow you to bring your own cake into the restaurant, so I made Minecraft Cupcakes to take with us. Cupcakes are easy to transport and don't require plates or cutting, so it was the easiest idea. I found this free cupcake topper and wrap printable, so I could quickly make them myself at home! I used chocolate cupcakes to look like dirt and piped on green icing using the Wilton No.233 Decorating Tip, Multi-Opening
, then just assembled the rest using a lollipop stick to hold the creeper face.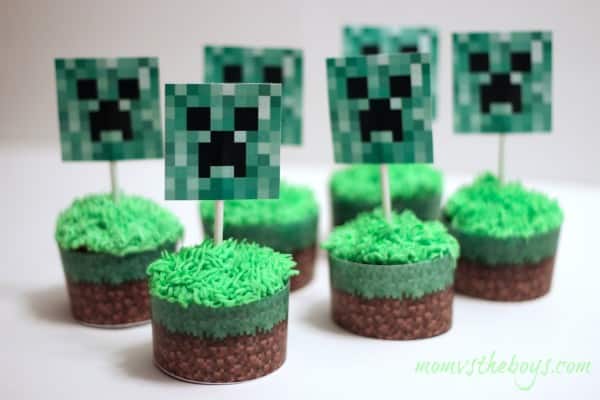 Lastly the party guests needed favours to take home. I decided the quickest and easiest idea would be to buy the boys fun stainless steel water bottles. They will be able to use them for years to come and I filled them up with some wrapped candies from the bulk food store. I printed off some Minecraft Thank You Cards and attached them to the bottles and my son wrote his guests a note thanking them for coming to his party inside.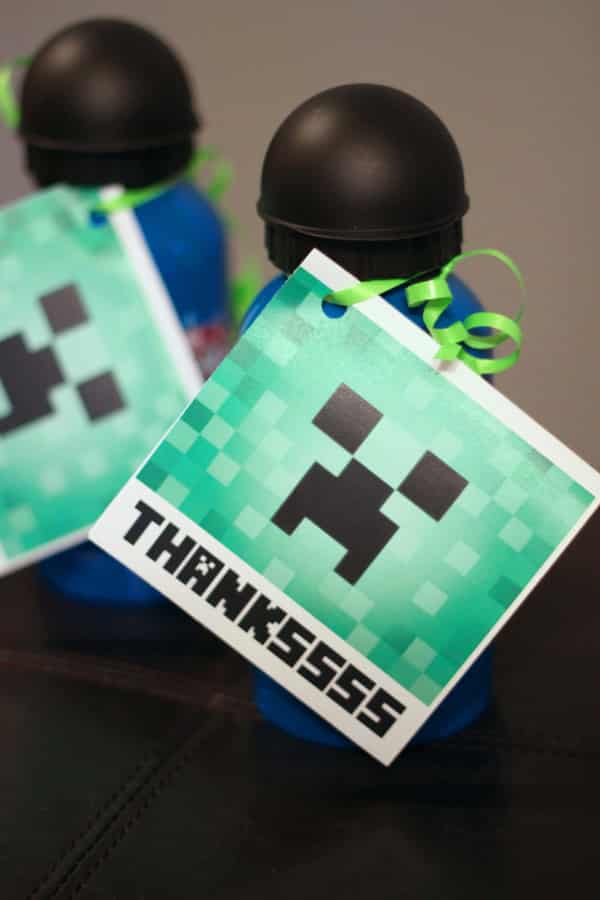 Overall the party was a big success, the boys were thrilled, the guests deemed it the best party ever and Mom was happy because she didn't stress over the special touches thanks to some clever and creative geniuses! If you are planning a Minecraft party for your gamer dude, be sure to pop over and visit the links!