On our recent trip to Turks and Caicos with Beaches Resorts, my son was able to experience so many things he's never been able to see and do before, it was an amazing one on one trip where I really got to see him learn and grow. Being outside of the craziness of day to day life at home, it was a time for us to just focus on each other and one thing I already knew, but really hit home for me on that trip was – this is a REALLY great kid! He impressed me at every turn and I was blown away by his kindness, willingness to go with the flow and his bravery. 
Reading Road Trip
One morning, we climbed aboard a big hot white school bus and traveled through the streets of Providenciales to visit the Enid Capron Primary School with the Reading Road Trip Program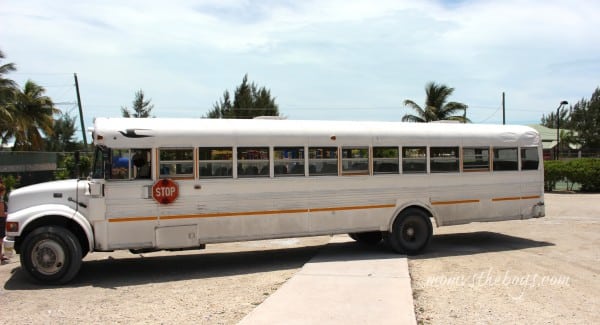 Reading Road Trip, is a unique opportunity for guests visiting all Sandals resorts and Beaches resorts to visit one of the Sandals Foundation's adopted early childhood or primary schools  and engage with students ages 5-7 in activities geared at improving their literacy, vocabulary and comprehension. We traveled to the school on the same bus the students use which made for an exciting and authentic experience for my son and I.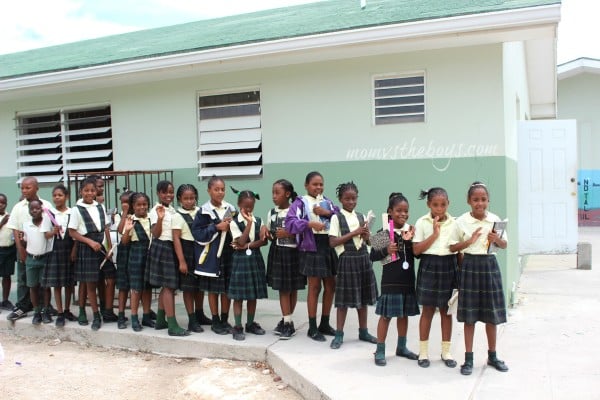 We had a quick glance at the playground before heading up the big hill to the school buildings, these adorable girls were our first look at the students of Enid Capron, they were excited to see us! The first big difference my son noticed was the uniforms. All the 580 students at Enid Capron wear uniforms though they did differ between classes. We asked to visit the Grade 2 classroom so my son could meet students the same age as him.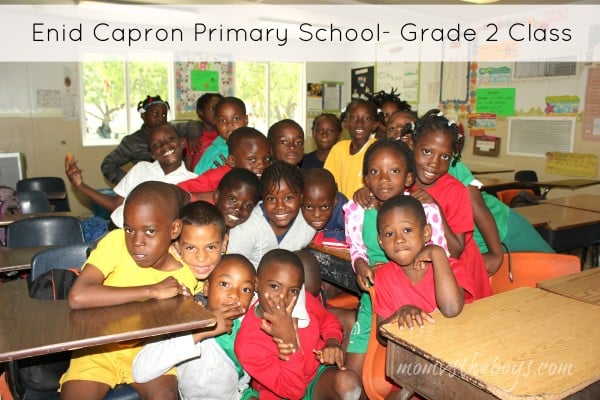 The second difference my son noted was that the classrooms were individual buildings which is very unlike his large school structure that houses all the kids together. The grade 2 classroom was full from wall to wall with desks and happy faces! It was hard to get them all together for a photo as there was no open space in the classroom and the kids were so excited to get their picture taken they fought for a prime spot in the middle! 
Packing for a Purpose
Volunteers are encouraged to bring new or gently used books to share with the children and donate to the school's library, we brought along three books to leave with the kids. We were also asked if we would like to read to the children, and having worked as an early childhood educator for many years, I was super excited to engage with the children. Unfortunately, I had caught a cold on the plane ride down and lost my voice, it was particularly bad this day and I was disappointed that we wouldn't be able to take part. I was blown away, when my son decided that HE would get up in front of the class and read them a book on his own!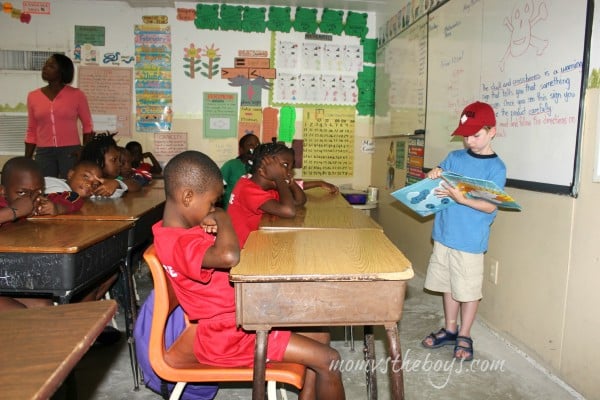 My proudest Mama Moment!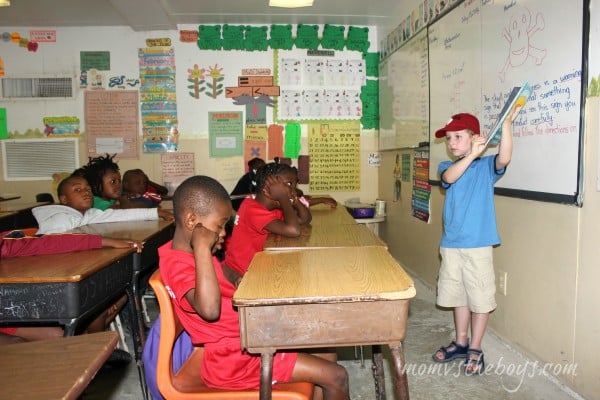 I was so proud of him! He was very brave to get up there in front of the classroom and read the kids a story, the children were so quiet and patient with him as he read the whole book. We also had the chance to hear a few of the other kids read and they were very good and excited to show off their skills and knowledge!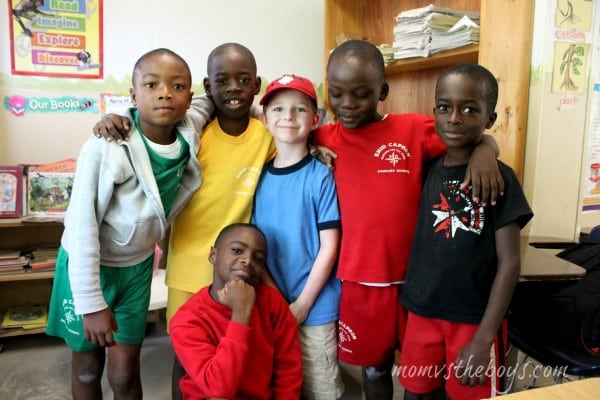 The kids were most excited just to meet us and the feeling was reciprocal! The teacher seemed a little strict and naturally wanted her students on their best behaviour, but we were able to gather a few boys for a quick photo before they took their seats. When it was time to go a little girl asked me for a hug! My heart melted instantly! One hug lead to another and another and soon little girls were lined up for a hug fest which I happily engaged in! I could have stayed all day to hug each and every one of them, but I didn't want to disrupt the class too much. My son gave the grade two teacher our books to keep and we sadly waved goodbye.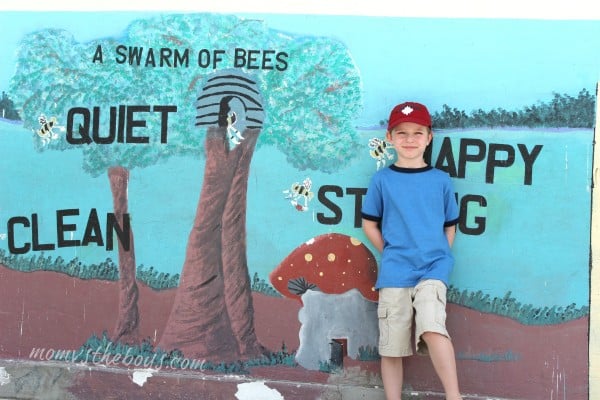 Take a Reading Road Trip!
The Sandals Foundation has been very active in supporting the Enid Capron Primary School through infrastructural upgrades, donations of much needed books and school supplies, and through the weekly Reading Road Trip. You can take a Reading Road Trip too! The excursion operates from 9 a.m. to 11 a.m. every Thursday, September to June in Jamaica, Turks and Caicos, Saint Lucia, Antigua, and Great Exuma, The Bahamas at a cost of US$20 per person, ages 13 years and older. Children between the ages of 8-12 are complimentary and all minors must be accompanied by an adult.
This was an amazing experience for my son to be able see a school in another country and how it differs from his own. We both left feeling blessed for all that we have and with a greater understanding of the school and children in Turks and Caicos Islands. We often donate items here in Canada, but being there in person, first hand, to see the school and students who benefit from the Sandals Foundation was a special moment. Being able to hand the books right to the teacher and know that those children need them and will enjoy them made a big impact on my son. Back at home, my son brought in photos of our visit to his own class and shared our day on the Reading Road Trip with his teacher and classmates. This was a day we both won't soon forget!
You can follow the Sandals Foundation on Facebook and on Twitter @SandalsFdn, for updates.
Looking for more posts about Beaches Turks and Caicos? Check out these:
Beaches Resorts, Turks and Caicos Celebrates the Grand Opening of Key West Luxury Village
Where in the World is Turks and Caicos?
Disclosure, I was provided with airfare and accommodations to attend Beaches Resort, regardless,  all opinions expressed are honest and my own.