This post is part of the YummyMummyClub.ca and Great Wolf Lodge #GWLNiagara10 sponsored program. I received compensation as a thank you for my participation. This post reflects my personal opinion about the information provided by the sponsors.
.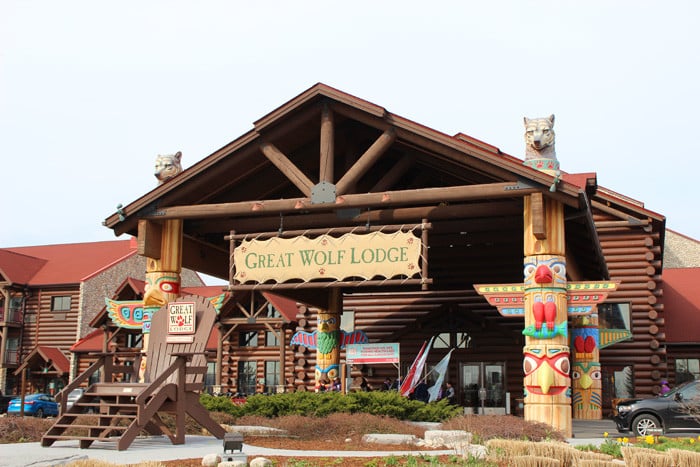 Traveling as a family of five can sometimes be tricky. From restaurant tables that only seat four to hotel rooms with only two double beds. We are always on the lookout for new and exciting adventures we can take the boys on that can easily fit our family. We've had Great Wolf Lodge in Niagara Falls on our radar for some time now and were really excited at the chance to visit the Lodge just as they celebrate their 10th birthday! Congratulations on the double digits Great Wolf Lodge!
Family Suites
What's sweet about Great Wolf Lodge? The family sized suites! Themed suites are available to fit anywhere from 4 to 7 people and come completely decked out in the lodge theme. Our boys went crazy when they saw that our KidCabin Suite had a private log cabin room just for the kids, complete with bunk beds, windows and their own TV! Mom and Dad were just as excited for the privacy and fire place in our own sleeping quarters and it's always nice to have access to a fridge to keep beverages on hand, bonus points came in the form of an in-room microwave.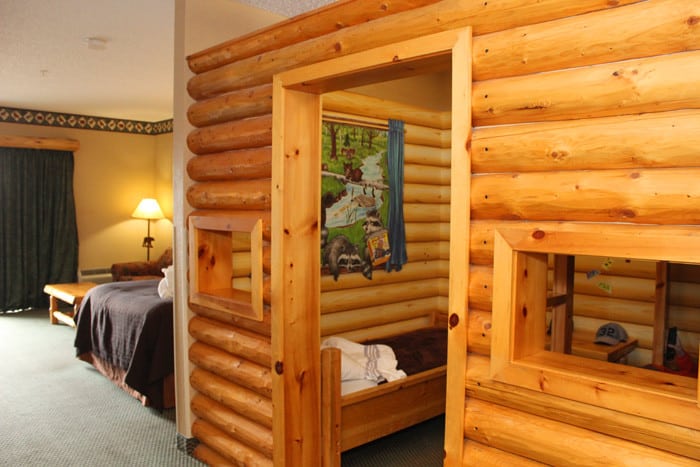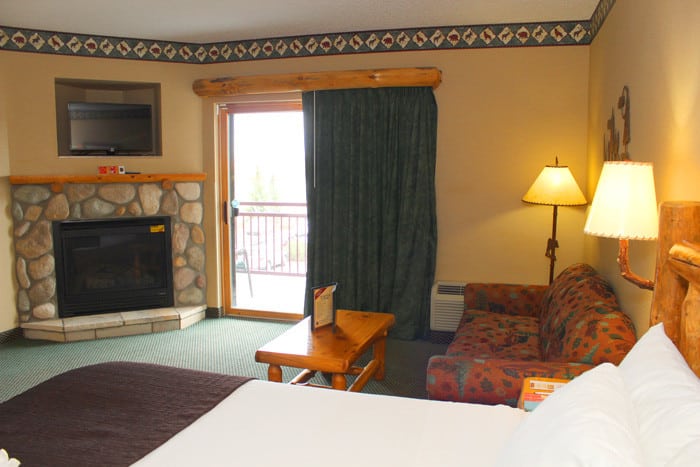 Indoor Water Park
Let's face it, the main attraction at Great Wolf Lodge is the indoor water park and it does not disappoint. With over 103,000 square feet of wet and wild rides there is something for everyone at every level of thrill-seeking! There were plenty of tiny bathers and the entry level pools and pint sized slides were perfect for this age group. I liked that the boys were measured when we entered the water park and were given coloured wrist bands to show us and the staff which rides they were suitable for. My 6 and 7 year old were in the green range that allowed them to ride most slides and my eldest who is 9 was able to ride everything. Our family enjoyed all of the slides we tried, but the boys got bored quickly of the wait time in the line ups and actually preferred to spend their time at the wave pool, lazy river and their favourite activity by far was the basketball hoops. They quickly found other boys their age to play with and had a blast shooting hoops with new friends.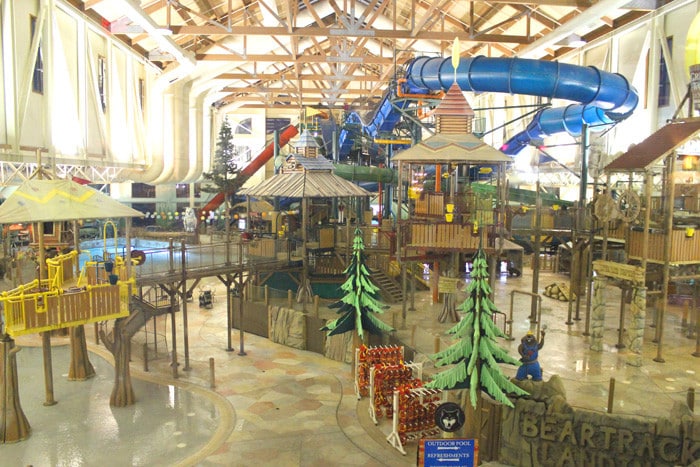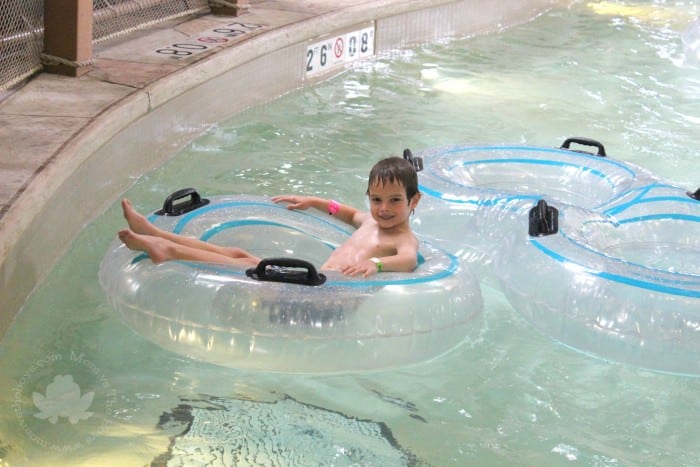 Wolf Tail
To help celebrate their 10th birthday, Great Wolf Lodge unveiled a brand new slide this month called the Wolf Tail! Trust me, it is not for the faint of heart! This ride is for the ultimate thrill-seeker (which is not me by the way!). On the Wolf Tail, you'll travel 278 feet in 8 seconds: once the floor drops out, you'll be hurled into a nearly vertical, 20-foot freefall, followed by a 360-degree, high-speed loop! I had a lot of fun watching brave riders drop out of sight, but I never did gather enough courage to take it on myself, I did enough screaming on the Niagara Rapids Run roller coaster water slide!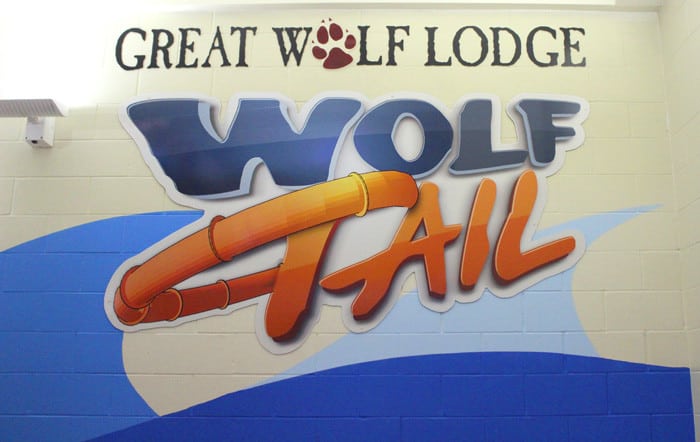 Beyond the Water Park
I had no idea just how much there was to do beyond the waterpark at Great Wolf Lodge. The best and most affordable way to experience it all is with the Paw Pass which entitles each person access to a whole list of activities and treats. The Paw Pass includes: two games at Ten Paw Bowling, 20 Paw Points and game card for Northern Light Arcade, One MagiQuest game and wand, One quarter pound of fudge, One animal from our Great Wolf Stuffing Station, One 5×7 Paw Prints waterpark action photo, Two Great Wolf Kids activities in Cub Club, One pair of wolf ears and One gift at Scooops Kid Spa. Boymoms, your little dudes might want to skip the pinkness of the spa, but be sure to visit anyway as there is a great selection of gifts to choose that they will be excited about too, including light-up glasses and camo wallets.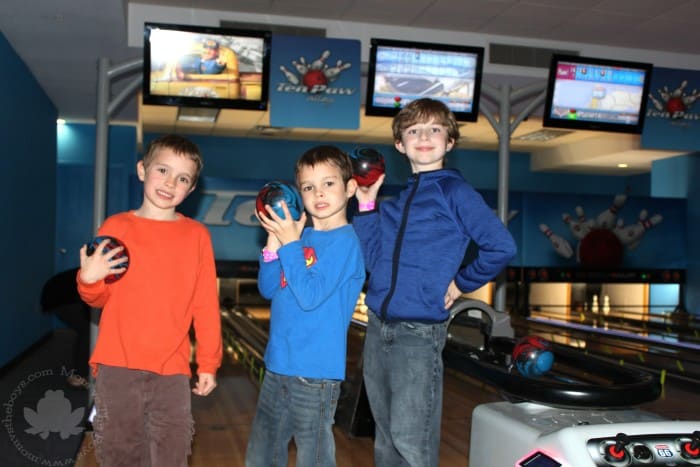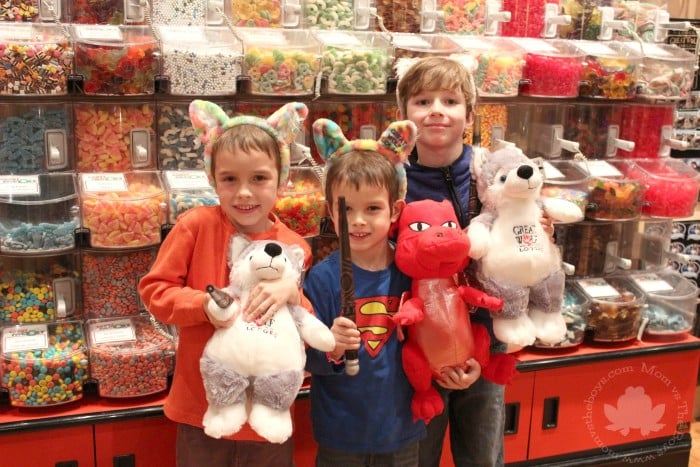 The boys really loved being able to help stuff their own characters and the stuffies make a great souvenir. If your kids are Harry Potter fans like mine, they will absolutely love the MagiQuest: Guardians of the Realm Portals game. Once you pick out your wand, you explore the lodge as you take on each quest. The wands are pure magic as they make pictures talk, objects light up and open treasure chests! Your wand is yours to bring home, and you can bring it back to use again next time you visit. We started our quests during the evening thinking it would be a quiet time, but found that the music from the lobby parties and stories made it too difficult to hear. Earlier in the morning, before breakfast turned out to be a great time to roam the lodge, making magic.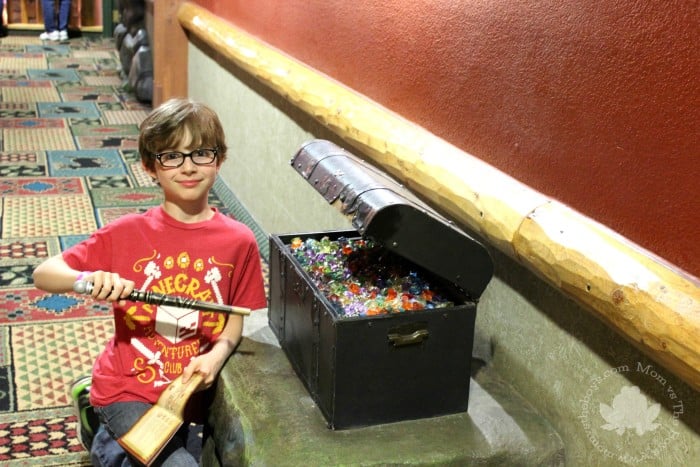 If you've bought a Paw Pass and have run out of time without getting to the Cub Club, be sure to drop in before you go to pick up your activities to complete at home. The staff have everything you need in little kits that can either be done on-site or at home. 
Mom Tip: Send dad to the arcade with the kids and step into Elements Spa next door for a little pampering!  There is an array of massage and skin therapy choices along with manicures, pedicures and gentle waxing available. I treated myself to an Eminence Organic Facial which was amazing and came complete with a foot and scalp massage!
Free Fun 
There are all kinds of free activities that happen throughout the day taking place in the Grand Living Room. Starting early in the morning with Yoga Tails and going all the way into the evening with Story Time and Dance Parties. Just check the schedule when you arrive to plan your stay.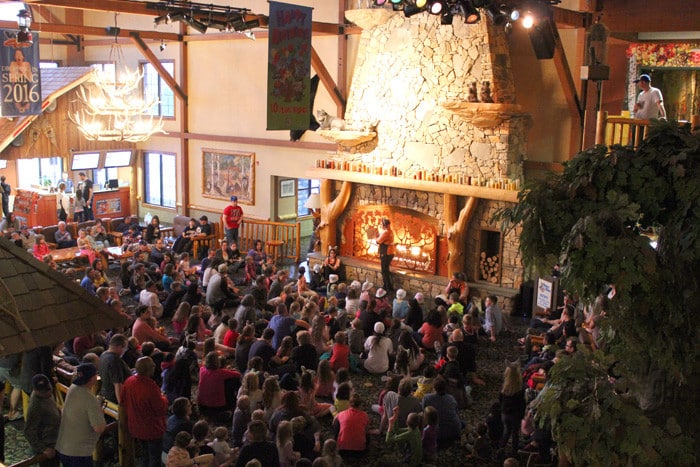 Final tip, when packing for Great Wolf Lodge, be sure to include flip flops and either beach cover ups, robes or towels for the waterpark. There are complimentary towels provided but they are small for adults and must stay in the water park. It's quite chilly when you leave wet after a day riding the water slides and want to head back to your room. 
Great Wolf Lodge is an amazing family getaway any time of the year. You can always count on the perfect weather for your vacation!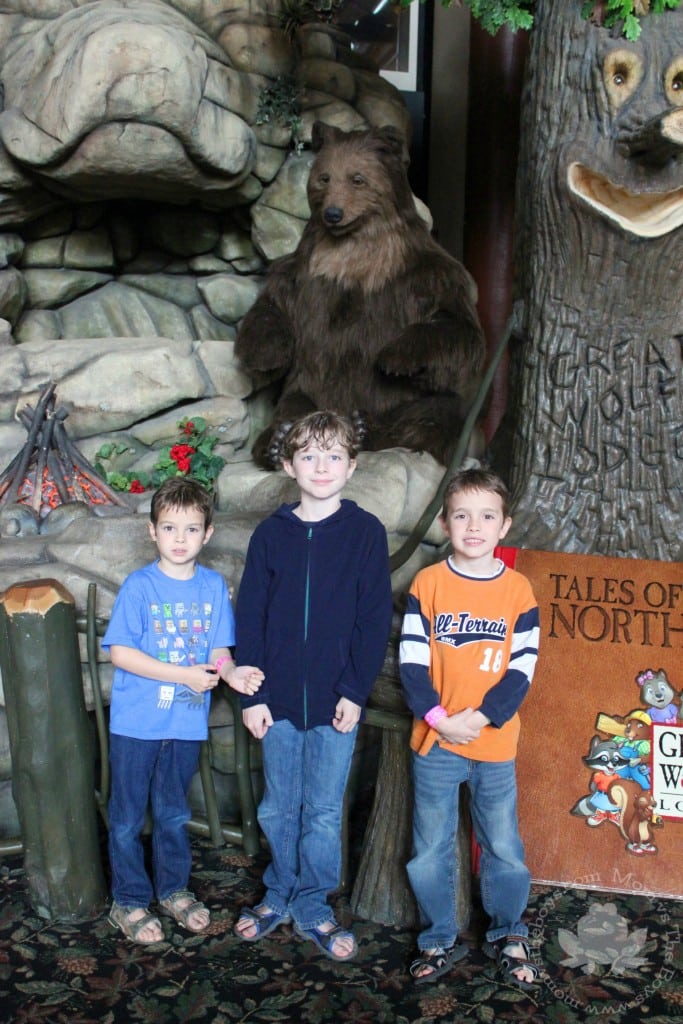 Want a thrilling family vacay that will suit everyone in your family no matter what their age? Great Wolf Lodge Niagara Falls has it all! Zero-depth-entry playgrounds for little ones, jaw-dropping thrill rides and water slides for older kids, and a hot tub for adults!
Plus, Great Wolf Lodge has added a brand new slide to celebrate their 10th anniversary! Will you dare to take the plunge?
Book your fun family vacay through June 16th and get 20% off using promo code YUMMYFUN.