Is it just me or did September just fly by? Maybe it was the busyness of the back to school season or the warmer temps to enjoy but it seemed like we blinked and the month was coming to an end. Already our days are getting cooler and the leaves are changing colour, and just yesterday the boys came home excided that the workers have arrived to start setting up our fall fair. All of this can only mean one thing, Thanksgiving is right around the corner, and I'm already craving turkey! 
Thanksgiving has long been my favourite holiday, especially when we have family come to stay with us. You get to truly enjoy the company of each other without the stress and pressure of gifts being exchanged, it's a rare holiday meant just to give thanks for what you already have and I love that. Thanksgiving is the perfect time to put on a cozy sweater and get outside to enjoy apple picking, pumpking patches, raking leaves and for us, taking in the fair. Our tradition is to cook a huge turkey at the beginning of the weekend and then enjoy left overs in various forms throughout the rest of the days!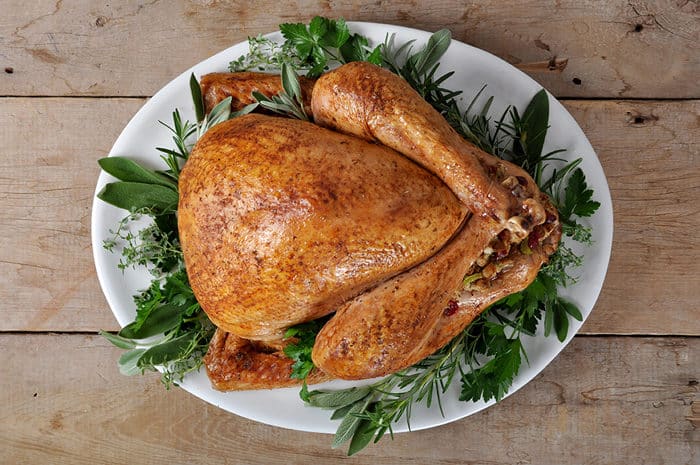 This Thanksgiving season, make Canadian Turkey the centerpiece of your family celebrations!  Whether you are feeding a large crowd or making an intimate dinner for two, there are many different ways to prepare a turkey meal that fits your unique needs.   I'll admit that roasting a whole turkey can seem intimidating at first, but the Canadian Turkey website has made it easy with their "Whole Bird How To's". You'll be surprised how easy it is to create a holiday show stopper.
If you aren't having a large crowd for the holidays there are still plenty of options for serving 100% Canadian Turkey. These days you can find a large variety of cuts at your local grocer, giving you many options to choose from. Just in case you are in need of some inspiration, check out this recipe for a tempting Sausage and Pistachio Stuffed Turkey Breast Roast.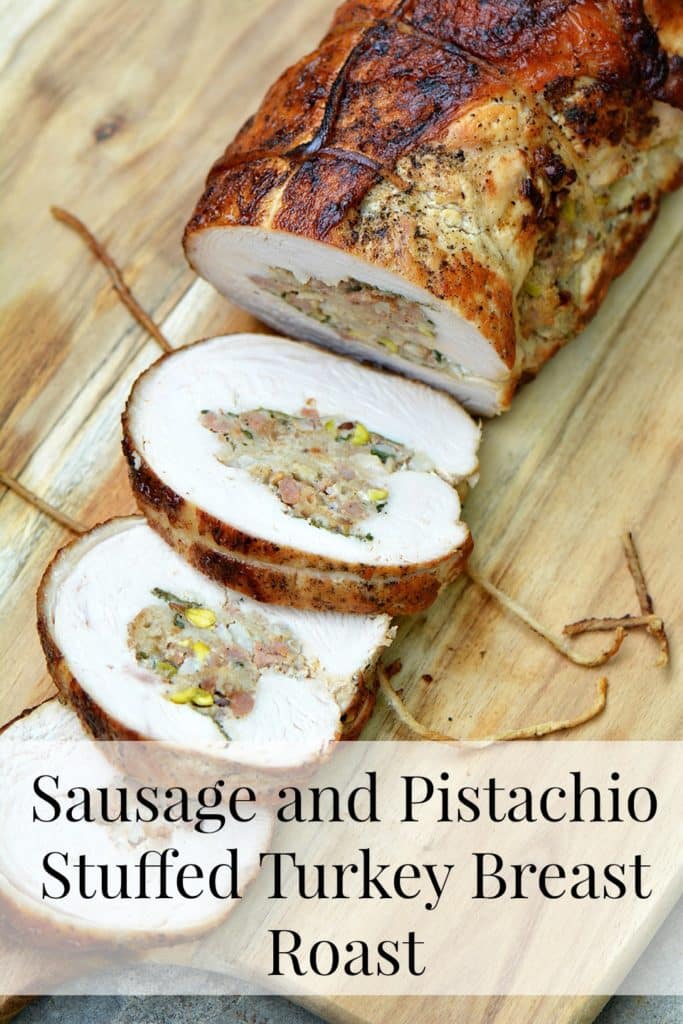 Sausage and Pistachio Stuffed Turkey Breast Roast
Serves: 4
Prep time: 30 mins. Cook time: 45 mins.
For turkey:
1 large boneless turkey breast, butterflied
1 tbsp olive oil
½ tsp each salt, pepper and garlic powder
8-12 leaves fresh sage
For stuffing:
3 slices rye, diced
1 sweet onion, diced
2 turkey sausages
3 tbsp milk
2 tbsp parsley, chopped
Salt and pepper to taste
1. Remove sausages from casing and sauté until cooked through. Set aside until cooled.
2. Pour milk over bread until absorbed. Let sit for 5 minutes.
3. Pre-heat oven to 350 degrees.
4. Combine sausage, bread and the rest of the stuffing ingredients.
5. Spread out breast meat. Season with olive oil, salt, pepper and garlic powder. Sprinkle with fresh sage leaves.
6. Spread stuffing evenly across meat.
7. Gently roll meat up into a roast. Tie to secure.
8. Season outside with salt and pepper.
9. Sear on medium-high heat until browned on all sides.
10. Roast in the oven for 35-45 minutes until an instant read thermometer reaches 170 degrees.
11. Remove from the oven and rest for 20 minutes until cooled.
12. Slice and serve.
Tip: This roast tastes great re-heated the next day. Serve with some mashed potatoes and a little cranberry sauce on the side for a perfect weeknight supper.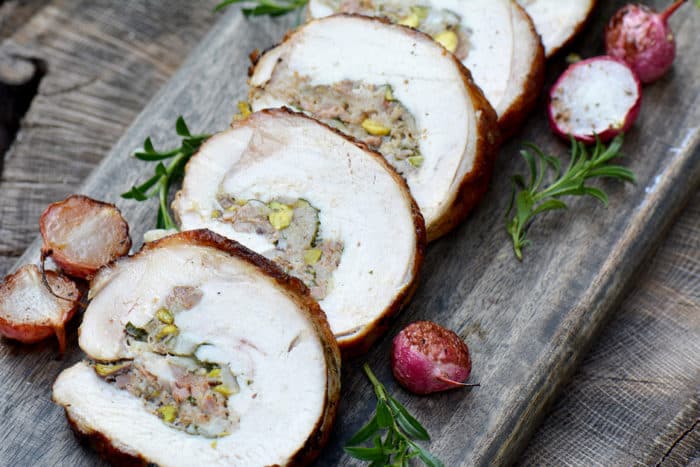 Head on over to the Canadian Turkey website for more tasty recipes to try on the grill this summer! You can also follow along for tips and tricks on turkey cooking on their social media sites such as Twitter, Facebook, You Tube and my favourite, Pinterest. 
To help you kick off a fantastic fall season, Canadian Turkey has a $75 Amazon.ca Gift Card up for grabs! Giveaway is open to Canada residents only, ends October 15th 2016. Enter below for a chance to win.