It seems that every summer my boys grow and stretch to new limits and have a so many new 'firsts' before the first fall leave blows. This week we had another first in our family, Little Buddy's first movie in a movie theatre! I have to admit we don't take the boys to the movies very often, with a family of five, it is just too expensive but thanks to Scotiabank and Scene you can make this fond family outing much more affordable, even FREE!
 SCENE is Scotiabank's movie rewards program that lets members earn points that can be redeemed for free movie tickets, concession combos, and more!
A regular SCENE membership is free and easy and will get you 250 points just for signing up! It has great perks like 10% off snacks and Tuesday movies and you can earn 100 SCENE points with every movie purchase.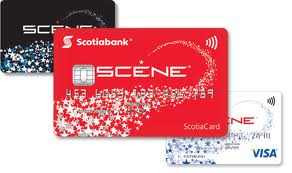 But you can earn points so much faster with SCENE Scotiacard and SCENE Visa card!  For every $5 you spend using your SCENE ScotiaCard debit card or $1 you spend using your SCENE VISA card, you receive 1 SCENE point. When you reach 1000 points, you are on your way to the movies my friend! The sign up bonus' alone will get you a family night out at the movies absolutely free!
So Little Buddy's first movie theatre experience went fairly well, at just 3 years old I knew he would be squirmy and could lose interest and he did, but the whole family had fun anyway! We saw  Ice Age 4: Continental Drift in 3D, I would have rathered skipped the 3D and saw a regular movie because I knew he wouldn't keep those glasses on but the theatre was only playing the regular movie once and the 3D version at about 5 different times so we had limited choices and had to go with the time that worked best. Now that we have a SCENE card, we will be saving our points so that we can take the boys to the movies more often! Kudos to Scotiabank for creating a fun and rewarding program that everyone can take part in!

Want to know that feeling of attending the movies for FREE? Two winners will receive 1000 points each which equals one free movie ticket to see any movie they want! Don't have a SCENE card? It's super quick and easy to sign up and instantly you will receive a temporary card you can print out or download onto your phone so you can hit the movies without waiting for your card to arrive in the mail! Want to know the feeling of attending the movies for FREE all the time??? Sign up for the Scotiabank Debit or Visa Card and you may never pay for another movie again!