We do a lot of baking around the holidays and while the boys still get to help with stirring and beating, Mommy likes most of the treats to look really pretty when they are done. This year Kellogg's sent us a big box of all the yummy ingredients we would need to make Rice Krispie Treats with the boys! This is a perfect family activity because all 5 of us sit at the table and the kids get to be as hands on as they like! 
I was super impressed with the embellishments Kellogg's sent as well, the prettiest edible glitter and sparkly icing! It was definitely a festive and delicious project for us!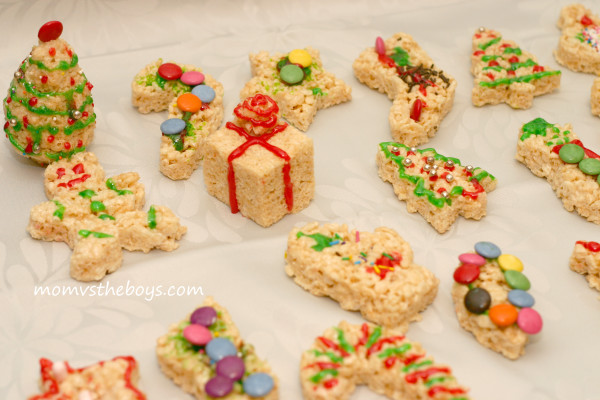 Kellogg's Rice Krispie Holiday Treats
Ingredients
3 tablespoons butter or margarine
1 package (10 oz., about 40) regular marshmallows
-OR-
4 cups miniature marshmallows
6 cups Kellogg's® Rice Krispies® cereal
Instructions
In large saucepan melt butter over low heat. Add marshmallows and stir until completely melted. Remove from heat.
Add KELLOGG'S RICE KRISPIES cereal. Stir until well coated.
Using buttered spatula or wax paper evenly press mixture into 13 x 9 x 2-inch pan coated with cooking spray.
Use cookie cutters to create holiday shapes or form with your hands.
Decorate with icing, candies, etc.
Optional: To freeze, place in layers separated by wax paper in airtight container. Freeze for up to 6 weeks. Let stand at room temperature for 15 minutes before serving.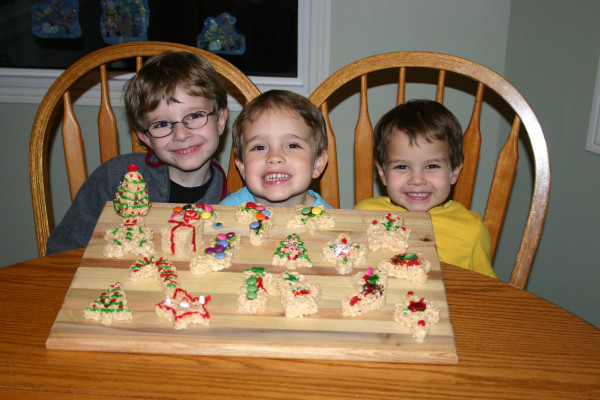 If you are looking for a fun holiday activity to do with the family this year, this one is bound to be a big hit! It serves as craft and treat all in one and is fun for all ages!