Santa's Village has been delighting the hearts of children of all ages for 58 magical seasons! My parents brought me for my first visit when I was three years old and this past weekend I returned with my own boys, a tradition worth recognizing! In fact, we saw almost a 50/50 split of children visiting with parents and children visiting with grandparents. This is truly a place to bring the young and old together and we even overheard one set of grandparents telling the staff how they used to come with their own kids and now they bring their grandkids, there is something really special about that! 
And what's not to love right? The Village boasts two theme parks, a day camp, animals, and a family campground, where kids of all ages can visit Santa, enjoy rides, games, and countless other family-friendly activities.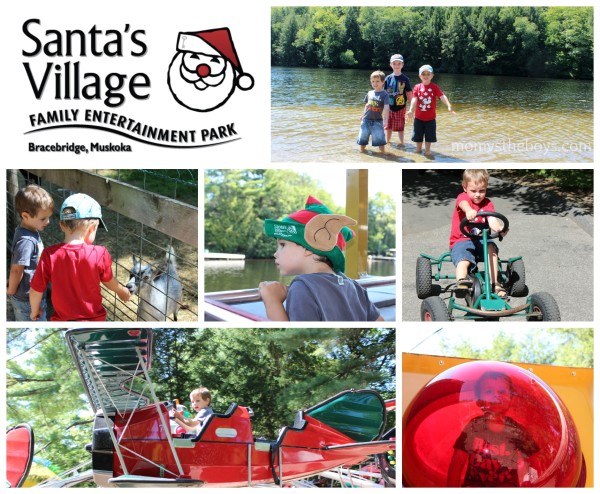 Santa's Village sits on the 45th parallel, halfway between the North Pole and the equator and is nestled along the beautiful Muskoka River. We spent a day and a half taking in all that the attraction had to offer including a roller coaster, riverboat and train rides, merry-go-round,  petting farm, splash pad, beach, playgrounds, inflatable bouncers, arcade, paddle boats, 3D theatre and more!
My younger boys were a little too shy to meet Santa, but my big guy had no problems making sure Santa knew he needed more LEGO this coming Christmas! They most enjoyed playing at Elves Island and the beach beside the brand new splash pad! Mom and Dad are in agreement, as the Muskoka chairs were a relaxing way to end our day.We also enjoyed our ride on Santa's Sleigh Jet Boat where we could bop to the music and dream about owning one of those amazing water front properties! If you've taken a ride before you will remember "The Big Elf" himself, Captain Ricky who has been at the helm of Santa's Sleigh Jet Boat for the past 33 years! He's set to retire this year in fact and welcomes any photo memories you might have that include him! Though he looks a lot like Santa now (except with an interesting forearm tattoo!) he once had a beard that was black not white! ( email pictures if you have them to  pictures@santasvillage.ca )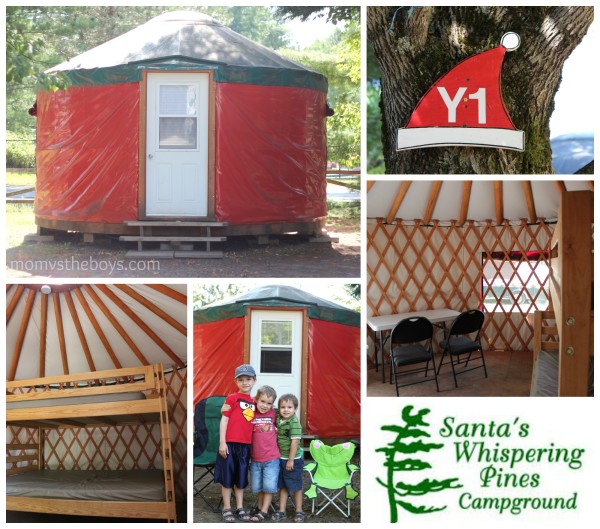 Santa's Whispering Pines Campground
Santa's Whispering Pines Campground was voted best campground in Muskoka for the past two years and is a must stay location during your visit to Santa's Village! Don't be a wuss and book a hotel, the campground is truly part of the whole experience and was a lot of fun! Our family of 5 stayed in one of the two new Yurts and we loved it! It was much bigger than I had anticipated and the bunk beds were quite cozy! You can't beat the location as it's directly across the street from the park and we took advantage of this on our full day, when we returned for some much needed rest before donning our bathing suits and heading back for some water fun. The only downside would be the noise from the gokarts during park hours, luckily for us we were at the park for most of this time. 
You won't find two nicer elves than Sarah and Kevin who manage the campground, they are truly the nicest, most helpful people, who have a remarkable tendency to remember your name! The campground has a very nice playground, newly renovated washrooms and showers and a swimming pool, that sadly the kids didn't have time to use during this visit. We were too busy over at the parks! Seasoned campers can bring their tent or trailer or camping newbies can rent one of the yurts or cabins on site.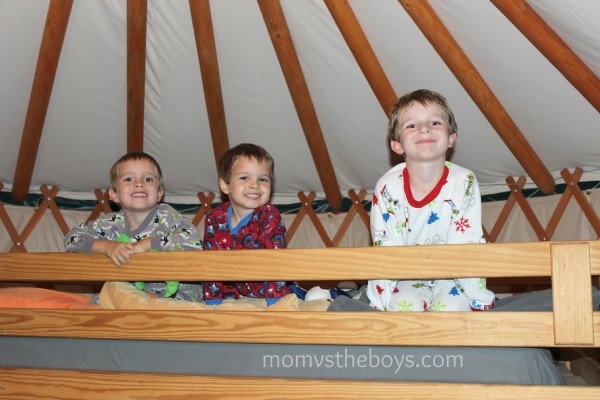 Sportsland
Nothing says family fun like drag racing your kids and boy did we have fun! This was a highlight for us and despite the very long wait time we found ourselves on the track again and again! The kids had a blast, and well, Mom and Dad did too! Another first for the family was taking the boys mini golfing, the course was nicely landscaped with achievable par 2-3 holes. The boys had a lot of fun and asked to go again the next day, Santa's village also has a smaller course inside the village. Sportsland has pay-as-you-play activities, including the go karts, batting cages, laser tag, mini golf an arcade pavilion and new this year a Bungee Trampoline. While it's connected to the village it has a much different atmosphere and operates for longer hours.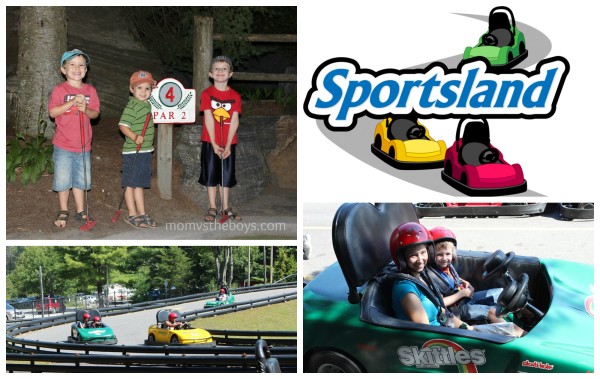 Santa's Village is the oldest and the largest attraction in the Muskoka Region and averages 100,000 visitors a year, they are clearly doing something right! I can't help but wonder if someday my boys will be back with their own kids, another generation taking in the family tradition! From sleeping in a yurt to our first go kart races and mini golf tournament, our family was making memories at every stop!
Visit the Santa's Village website for more information and be sure to follow along with them on Facebook and Twitter!
disclosure: We received complimentary tickets to visit Santa's Village and Sportsland as well as a stay at Santa's Whispering Pines Campground, however, all opinions expressed are honest and my own.