Giovanni now has a super fun line of 3inone products that take care of shampoo, body wash and bubble bath all in one yummy smelling bottle!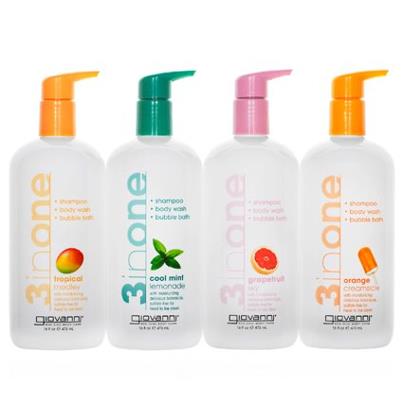 I gave the product a try and really loved it as a body wash, all 4 scents are really great, but I didn't find it was a good enough quality for my hair.
As soon as I smelled the Creamsicle scent I knew these would be perfect for bathing the boys! What boy could resist smelling like this! Other scents include Tropical Medley, Cool Mint, and fresh and tangy Grapefruit.
I like that the bottle comes in a pump, I always look for pumps on my kids wash and shampoo because it is so easy to wash all the boys in the tub together in a little assembly line and the pump is easy to push with wet slippery hands instead of managing a bottle.
Giovanni 3inone is sulfate-free with organic oils to smooth and repair, has vitamins and nutrients to help condition hair and skin and is just good clean fun to turn your shower or tubtime into playtime!
disclosure: I was provided with the above mentioned product for review purposes. all opinions are my own.