It's hard to believe that we are talking about back to school already when some days it feels like summer just began! I have some mixed feelings about it all for sure, my oldest son heads into grade one and will start going to school full time and my middle man heads off to start his education in JK but will also go all day every day as per the new agenda (stupid government lol). So last year I had all three boys for most of the time and this year I'm down to one lonely boy who will be looking at me to keep him entertained! Such a difference!
I have a few goodies lined up for you to make sending the kiddos off to school just a little bit easier! Check them out!
Rubbermaid LunchBlox™ Containers
Raise your hand if packing lunches is your least favourite part of sending the kids to school. Ohhh just what I thought, most of you raised your hand, because packing lunches can be a nightmare! New from Rubbermaid is the LunchBlox containers and let me tell you they are FAB-U-LOUS! It's not every day I get excited over food storage containers but these are pretty nifty and I wasn't the only one excited, the kids are already looking forward to packing these in their backpacks!
Available in 2 handy kits – Sandwich and Salad , each one contains modular containers that snap together in multiple configurations to efficiently use the space in your lunch box or bag. My boy's favourite part was that they connect like legos and my favourite part is that they also come with a connecting ice pack to keep foods cold and safe! It easily snaps onto the bottom or in between layers to keep items both on the top and the bottom cold.  Containers are BPA-free and Microwave, Dishwasher, and Freezer Safe. Individual containers are sold separately from kits so you can configure a different way everyday depending on what's for lunch. You are going to love these!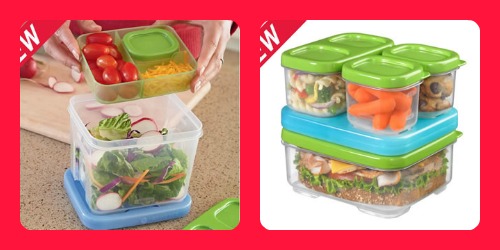 Master Lock 



When I was in high school, everybody had the same lock on their locker, or they looked the same anyway- boring and silver. Today locker locks are both fun and functional and I was super impressed with the variety of selection and style over at Masterlock. From pink, to aqua and everything in between the colours pop and for those of you who are like me and can't remember a 3 digit code to save your life, they also have locks that have word combinations! Yes, now that would have come in handy back in the day and would have saved my forarm being covered in ink! lol While we aren't ready for highschool in our family just yet, we do use locks when we head to the local YMCA for our swimming lessons and these bright locks will ensure we always remember which locker is ours and will keep our items safe.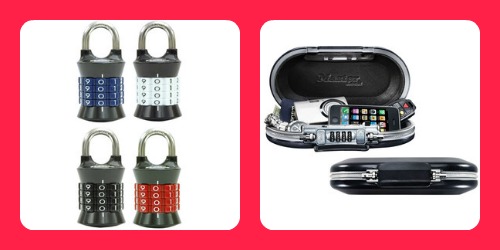 Master Lock also carries the SafeSpace portable safe which is an essential tool for college kids and high schoolers; it is a small clamshell safe with a soft inner liner that is perfect for keeping phones, wallets, cameras, iPods, etc. safe in an unattended dorm room or locker.  It's also perfect for a frequent traveler to hold wallets, passports and keys. You are able to lock  up valuables with the cable wrapped tightly to the safe or wrapped securely around a fixed object and it even has a Ear Bud/Charging Cable Access Port.
Giveaway!
Canada only
One lucky reader will win two sets of each of the Rubbermaid Lunchblox Sandwich and Salad kits (4 all together- $50 value)
and
One lucky reader will win a SafeSpace portable safe ($28 value)
Looking for more Back-to-School Giveaways? Check out the linky below!