My Mother-in-law used to make this version of lasagna before she passed away. It was probably one of the first recipes I struck up a nerve to ask her for and I'm really glad I did! Today it's comfort food for a number of reasons, it's warm and hearty, but  mainly it reminds us of family!
I make my Mexican Lasagna the same way my Mother-in-law did except for the number of tortilla shells, her recipe used 10 altogether, 5 on the bottom and 5 in the middle. I find this too be too many and creates a layer that can be too thick, so when I make this recipe and the way I show you below, I only use 6-8 with 3 or 4 on the bottom and 3 or 4 in the middle. 
So let's build a lasagna – Mexican style!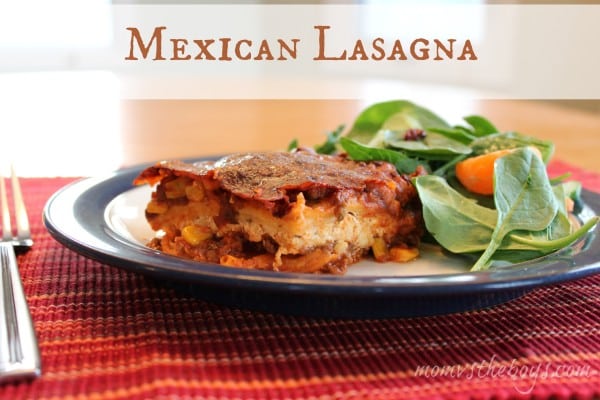 Mexican Lasagna
Ingredients
1 lb ground beef, drain fat
1 can corn
1 15 oz can tomato sauce
1 cup salsa
1 pkg taco seasoning
500 gr cottage cheese
2 eggs
1 tsp oregano
6-8 soft tortilla shells
1½ cups grated cheese ( I like mozzarella or marble)
Instructions
Brown ground beef in a large frying pan, drain off fat
Add corn, tomato sauce, salsa and taco seasoning and heat through
In a small bowl beat eggs, add in cottage cheese and oregano
Grease a 9 x 13 pan
Place 3-4 tortilla shells on the bottom of the pan overlapping
Cover with ½ of the meat mixture
Top with all of the cottage cheese mixture
Place 3-4 more tortilla shells overlapping on top
Cover with the last of the meat mixture
Top with grated cheese
Bake at 350F for 1 hour
Have you had a Mexican Lasagna before? What did you think?