The boys and I got crafty yesterday morning and made some sun catchers. I had been thinking of our upcoming trip to visit my mother in law who is in the hospital 3 hours away. She's been ill since around late September and just got out of the ICU before Christmas, but she still has a long way to go. I was trying to think of something the boys could make that we could bring her since she misses them a lot and they are not able to visit. She only has one small table and no wall space, so what I came up with was a sun catcher because she does have one skinny window beside her bed. We made hearts for Valentine's Day.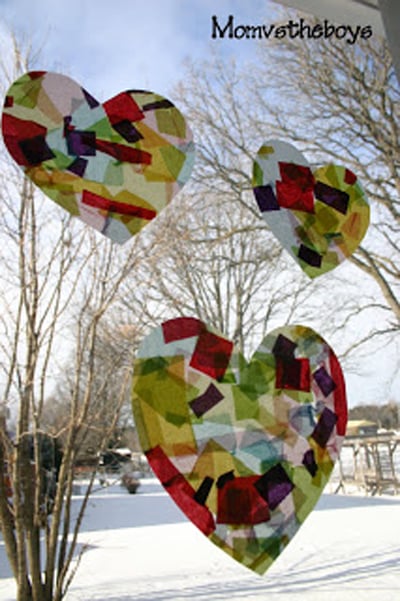 Valentine Sun Catchers
You'll Need
Contact Paper (mac tac, clear shelving paper)
Tissue Paper 
Scissors
I cut the heart shape out of contact paper (sometimes called mac tac or clear shelving paper), and peeled of the backing paper. Then I gave the boys pieces of tissue paper that I just cut up as we went along. (you could also have your kids rip their own pieces of tissue) The boys just had to stick the paper on wherever they wanted, even overlapping with other colours. Even my little guy could do this one and it was really clean because the paper is self sticking. so easy! When they were done I cut a second piece of contact paper larger than the heart and laid it out on top, sealing the tissue paper in. Then I cut along the edge of the original heart to trim it up. Cellophane would also look really nice and really let in the light.
They are colourful and pretty and make a perfect Valentine's gift!