I'm one of those people who wear slippers all day everyday, yes, even in the summer. I hate having cold feet! I also get really attached the pair I use and never seem to want to let them go. But wearing your slippers as many hours as  you are awake in the day, obviously means they can wear out quickly!
Recently I had the opportunity to try out a pair of Nature's Sleep slippers. I had been wearing a boot style slipper for a while now and really loved them, I was worried that these ones may slip off of my feet because there was no back support at all, but I was wrong. They are very comfortable and they stay on my feet where they belong, even traveling stairs!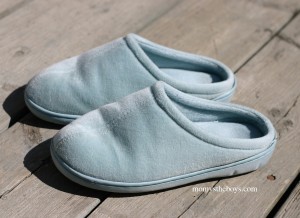 I had some trouble with the stitching separating at the back heel of both slippers, but it didn't seem to ruin the slippers and they are still fully functional. Nature's Sleep slippers come in two different styles, open toe or closed and are available in unisex sizing. They do recommend that ladies request a size smaller than normal because of this. My feet are a size 6 and the smallest size is a 5/6 so that is what I choose and I haven't had any problems so far. The other sizes available are medium (7/8) and Large (9/10) and X-Large (11/12). Colour choices are
Lavender
,
Mocha Brown
or
Pale Blue
like mine above. Slippers retail at $35 a pair.
Nature's Sleep also sells Memory Foam Mattresses and Pillows and right now you can use Discount Code BEARS50 for 50% off of your purchases!
One lucky reader can also win a pair of slippers right here for yourself (or your Mom for Mother's Day!)US/CAN

a Rafflecopter giveaway