Unleash your inner artist with Sharpie!

Sharpie has introduced their new 'Stained' markers to the masses for some fun and funky textile art!
Now you can turn everyday items into something special.  Jeans, shoes, t-shirts, hats, backpacks, pencil cases, purses… all these and many other fabric items can now be personalized anytime and anywhere.
A dramatic trend has emerged in the last few years as Sharpie markers are being used more and more for self-expression.  Sharpie users have inundated the company with images of their colourful creations and used social media to show off their work.  So now, the new Stained by Sharpie™ marker brings self-expression to a whole new level – on new surfaces and in new ways.  These new fabric markers feature a fade-resistant ink developed for optimal performance on most fabric surfaces.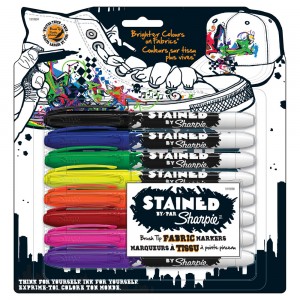 I'm no artist, it will be a miracle if my kids ever get passed stick figures if they take after me! But these markers were really fun to work with. The unique tip offers the ability to draw both straight thin lines and colour an area in with the side. I expeced these markers to be more 'wet' than they are, I even put a sheet of paper between the layers of the shirt I was colouring on and ended up not needing it. The marker did not bleed through at all. The colours are very bright and colourful, I would even say the yellow, orange and pink resemble a highlighter. I also did a wash test to see how the product held up after a spin the washing machine. I only noticed a slight fade in areas that I hadn't coloured in well, the rest remained bright and intact.
 MuchMusic + Sharpie have teamed up to offer a fabulous contest to win a trip to anywhere in the world to see any band/musician of your choice! How cool is that! GO HERE to enter, they also have iPad 2's with Beat by Dre Much Headphones to give away!
You can win a Sharpie prize pack valued at $50 right here to start you off!
Canada only