Who doesn't want to say hello to that, am I right?
The latest edition of Chicken Soup for the Soul is about Weight Loss and Fitness for Women Over 50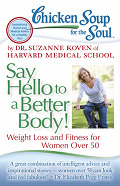 Inspiring Chicken Soup for the Soul stories and accessible leading-edge medical information from Dr. Suzanne Koven of Harvard Medical School. Women over 50 fight menopause, creaky joints, busy lives, and other factors that interfere with their quests for weight control and fitness. These advice-filled stories from women over 50 who have figured out how to get fit are combined with Dr. Koven's practical advice and medical information. You won't have any more excuses!
I have 3 copies to giveaway!
US/CAN