I still remember the day we brought our baby girl home at just 6 weeks old. A fluffy bundle of brown fur and dark blue eyes, she was the most gorgeous baby I had ever seen. This summer she turns 9 years old and is entering old age. yes, already! Our baby is a lab and is getting quite old. She falls often, she limps at times and her body is changing as is her mind.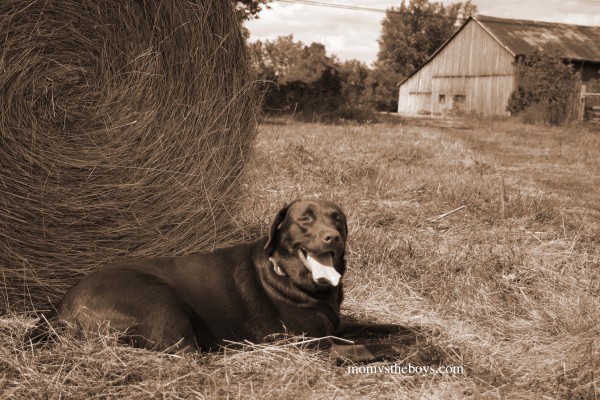 Our girl is on a special food from the vet and has been for years after a complication with her bladder, but most dogs will be fine with a good brand like Iams. Iams has a line of dog food made specifically for Senior dogs.
New Iams Senior Plus is designed to promote thequality of life as dogs and cats reach the senior plus stage. It addresses common senior health issues, including:

•      Maintaining muscle mass
•      Promoting ideal weight and body condition with aspecial formula that helps burn fat
•      Boosting immune health to healthy adult levelswith two times the antioxidants
•      Maintaining healthy skin and coat health with Omega 6
•      For dogs, helping to reduce tartar build up by up to 55 per cent with HMP (hexametaphosphate)
For more information on pet nutrition andchoosing a pet food to fit various life stages, visit www.iams.ca or www.facebook.com/Iams.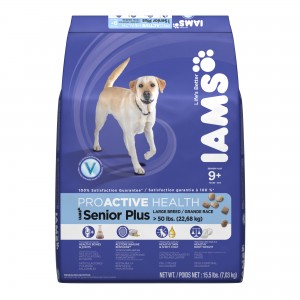 Since our girl is on food only provided by the vets office, we aren't able to try Iams on her diet but she is able to have doggy treats and we've been giving her Iams Proactive Health Natural Chicken Flavour biscuits. They have no arificial flavours or colours, they have 100% complete and balanced nutrition for maintenance and the crunchy texture helps to clean teeth.
I laughed when I read this on the front of the box :
100% Treat
0% Guilt
It's a cute way of saying that the treat is still good for the dog and makes sense. We pay A LOT of  money for our furbabies food to ensure her health, we wouldn't want to go ruin it by giving her a crappy treat. Iams treats are made with doggy health in mind.
Are you and your dog Iams fans too?
Enter below to win 2 Free Product Coupons for a large bag of Iams Dog Food
Canada only