With 3 truck loving boys in the house it's no surprise we are a family of Chuck and Friends fanatics! My boys love to watch Chuck and his friends Handy, Digger,Biggs, Soku, Rowdy and Boomer have a tire squealing good time! We didn't waste any time to sit down and watch a few episodes the day it arrived, but don't go looking for it on store shelves just yet, it won't be available to purchase until Sept 4th!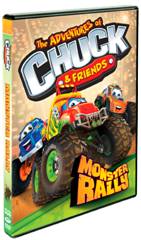 Episodes:
1. Where There's A Wheel
2. Hop, Slip & a Jump
3. Buffing Up
4. Daredevil Chuck
5. Chuck Atomic
6. Being Biggs
7. Hide & Seek
8. Attack Of  The Soft Chuck
9. Legend Of  Big Tire
10. Hard AtWork
Bonus Features:
Also includes a special sing-along!
Got Boys?
Get The Adventures of Chuck & Friends: MonsterRally
Available on DVD September 4 from Shout! Factory Kids