I'm super excited to introduce you all to sweetbabydealz!
You know when you come across a site online and you instantly think 'why haven't I seen this before?' yeah, this is that site! That 'where have you been all my life?' site or more accurately 'where were you when my first baby was born?' moment!
It's true, planning for a first baby is like planning for wedding, there is so much to do, buy and make decisions on. But this time the decisions are really hard, you want both cute and functional, something good for baby but also good for the environment and the options are endless on everything from toys, to clothing, to nursery accessories. Where do you start?
 sweetbabydealz is the perfect place to start because it will save you both time and money! It's owned and opperated by a mom just like you and me so you are guaranteed a 'mom approved' product at an afforable price each week!
We promise to deliver quality, parent-recommended products at sweetly low prices, and as much as possible to support brands that are organic, natural, eco-friendly and made locally with love; products and brands that we would only buy for our little ones and ourselves.
How Does sweetbabydealz Work?

Every Monday morning at 8am Eastern Standard Time, sweetbabydealz will offer a quality product for you or your little one at incredible discounts…until they run out!  They have limited quantities of the products on sale, so if you like what you see, buy it…before it's gone!
Because the dealz are so sweet, they often sell out, so it's best to subscribe to the sweetbabydealz newsletter so you will be the first to know of each week's deals! They are also announced on the sweetbabydealz facebook and twitter accounts as well. Because the inventory is always changing you'll want to check each week to see what new product is up for grabs!
 Check out this weeks sweet deal!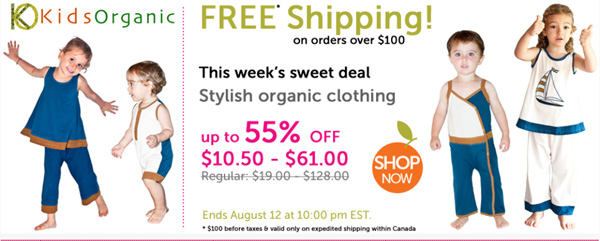 It Gets Even Sweeter!
For the month of August, I will be sharing the weekly sweet with you right here on Mom vs. the Boys, to make sure you don't miss out! And what's even better? You can receive 5% off your order by using the discount code "encompass5" at checkout!
Plus! Go HERE to enter to win a gorgeous

Kids Organic

teddy brown bear overall!