My husband and I haven't been  to the Canadian National Exhibition since our dating years, so we were really excited to head back this year for the CNE's 134th year with the kiddos in tow! It was a slightly different experience with the kids but just as much fun!
The CNE is perfect for families, there is so much to see and do for people of all ages and while the area that the CNE covers is huge, you can always take advantage of the free shuttle around the grounds. We were happy to see that even our wagon could come on board and we gladly hopped on for the ride back to our gate in the evening.
We spent a lot of our day in Kids World of course, and took in the Bob the Builder and Splash 'N Boots show at the Kids World Stage. The boys had a blast at the Pizza Nova pizza making workshop learning how to toss their own pizza dough and tasting some pizza with perfect timing at lunch! They learned some magic tricks courtesy of Professor Wick's School of Magic and Illusion, made some noise with instruments at Make Music and tried out their talent of tight rope walking at Under the Little Top.

Venturing out of Kids World, we made our way to The Farm and had a look at all the farm animals. Here's a fun fact: 1,921 tons of manure is produced each year by the CNE Horse Show and Farm Exhibit, crazy and gross all at the same time right? The names and ages of all the animals are posted and the kids really enjoyed knowing who they were meeting and if they were older or younger than them. We stayed for a sheep shearing show and the whole family was impressed with how easy the lady made it look, even though it takes two of us and all of our strength just to cut our dogs toe nails! lol The boys even cast their own reels at the fishing exhibit at The Farm.
Speaking of dogs, nothing was more exciting than watching the President's Choice SuperDogs Show! We had a lot of laughs cheering on the fast paced runners and jumpers doing their tricks and races! Next, we made our way across the street to check out the Canadian Forces Exhibit where the boys were able to climb aboard real planes, tanks and other army vehicles.
Welcome to Mardi Gras everyone! The Mardi Gras parade happens daily at 6pm and while it was pretty short, it was still nice to sit down and have a break while the boys collected beaded necklaces! The floats were exceptional and there was no shortage of beads, in fact, 500,000 beads get tossed from the parade route!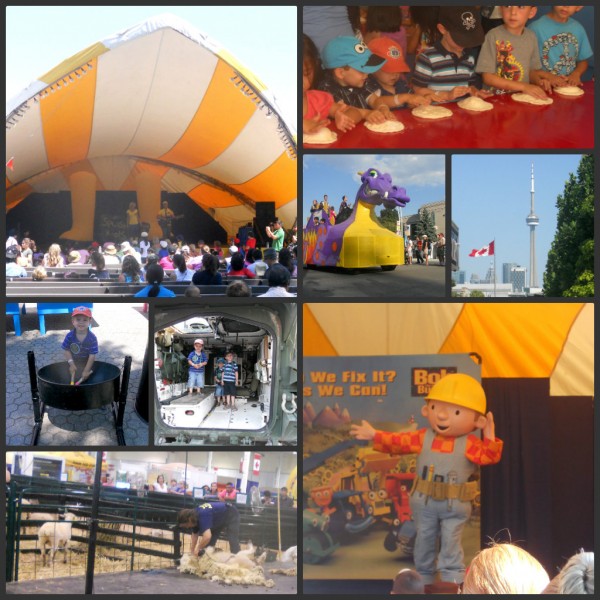 The 2012 Canadian National Exhibit runs from August 17 – September 3 so there is still lots of time to take in the fair with the family!
Admission prices are as follows-
General (14 – 59 years) $16
Over 60 years- $12
Children 5- 13 years- $12
Children 4 and under- Free
CNE Family Pass (2 adults and 2 children or 1 adult and 3 children) $48
Prices do not include rides, games or parking but do include events shows and performances.
Take advantage of Toonie Mondays when kids under 13 get in for only $2 with an adult or pop in after 5pm on Mon, Tues, Wed or Thurs when admission drops to $5 (does not include labour day monday)
Visit THEEX.COM for more information and program listings!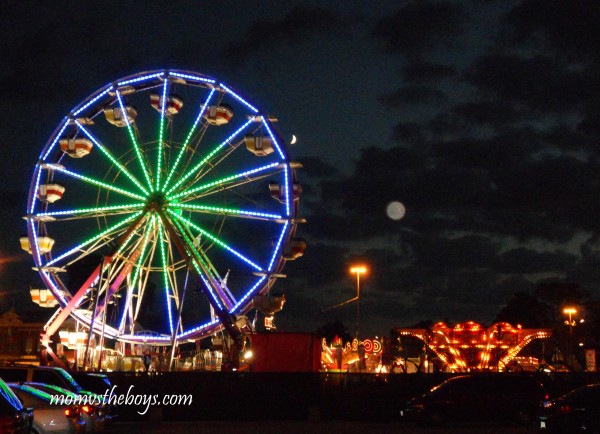 I was provided press passes to attend the Canadian National Exhibition for promotional purposes. All opinions and experiences are my own.