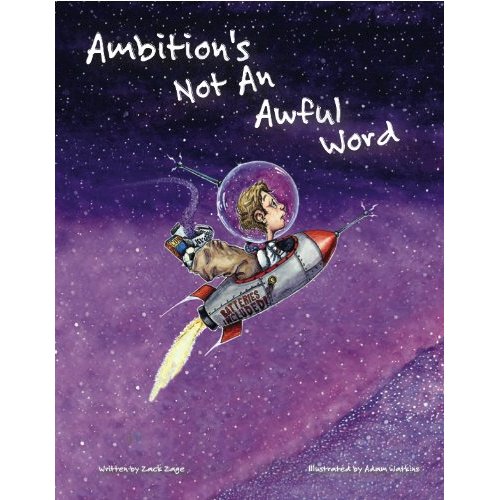 Confession: if there is one thing our family has too much of, it's children's books! BUT can you ever really have too many books for your kids?? I think not, however our limited storage thinks otherwise! We just need more book shelves I guess, because I plan on keeping my boys interested in books for as long as possible and I love reading new and interesting stories to them like Zack Zage's 'Ambition's Not An Awful Word'.
This is a really fun and entertaining tale about Zach who, after a long wait, finally gets to share with his class the answer to his teacher's question "What I want to be". His imagination runs overtime with exciting new ideas, only discouragement soon settles in with every one.
At bedtime that night, his mom reassures him that it's okay to Dream Big! Ambition's not an awful word after all!
The book is a nice large size with a hard cover and the story is full of rhymes making it a fun book to read. We really enjoyed the illustrations done by Adam Watkins.
This is a great book for boys aged 6 years and up!