This Korean Pork Lettuce Wrap recipe is brought to you in partnership with VH Sauces.
VH Can Turn Any Meal into an Exciting Meal!
With three boys in the house meal times can be hectic, there's always so much going on during that time of day, it's crazy! To make things easier, I try to have quick and easy recipes on hand and keep a cupboard stocked full of essentials like VH Sauces.



Korean Pork Lettuce Wraps
Yield: 4
Korean Pork Lettuce Wraps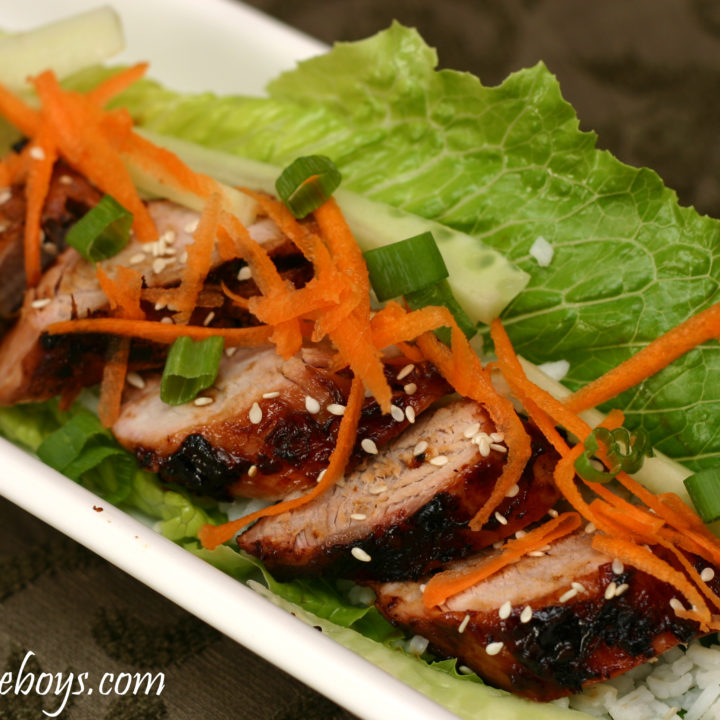 Ingredients
1 1/2 lb (675g) pork tenderloin
1 cup (250ml) VH Korean BBQ Sauce
2 tbsp (30ml) VH Soya Sauce
2 tbsp (30 ml) lime juice
PAM Grilling Spray
for wraps:
8 whole romaine lettuce leaves, washes, dried
2 cups (500ml) cooked rice
1/2 cup (125ml) grated carrot
1/2 cup (125ml) green onions, finely sliced
1 cup ( 250 ml) cucumber, peeled, and thinly sliced
Instructions
Slice the tenderloin lengthwise into 4 pieces, creating 4 equal strips. Pierce strips all over with a fork. Place in a plastic freezer bag with 1/2 cup VH Korean BBQ Sauce and lime juice.
Marinate for at least 1 hour, up to 1 day
Spray grill with PAM Grilling Spray and heat to medium -high. Remove pork from marinade and wipe off excess, discard marinade. Place pork on a grill and cook for 4 minutes, flip pieces over and begin basting with 1/2 cup of VH Korean BBQ Sauce, continue cooking 5 minutes or until pork is cooked through.
Slice pork into 1/2-inch strips and serve alongside other garnishes.
To assemble wraps, fill lettuce leaves with rice, pork, carrots, cucumber additional sauce and green onions.
Just check out how beautiful this came out!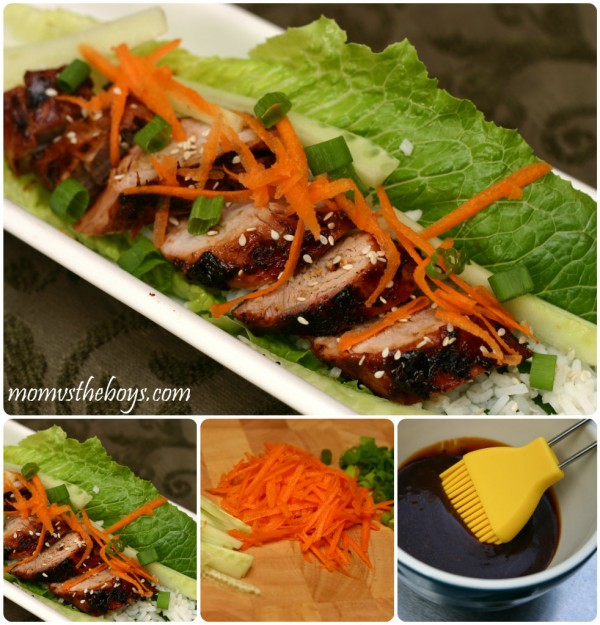 Isn't it gorgeous? The brightly coloured veggies really set off the meat and I added the sesame seeds for fun! This meal really was both quick and easy to prepare even with boys 'helping' me out in the kitchen!
Looking for more recipe ideas to excite your dinner routine?? Visit the VH Facebook Page for all kinds of interesting ideas!
Disclosure – I am participating in the VH Excite Your Dinner blog tour by enCompass Media on behalf of Con Agra Foods. I received compensation as a thank you for participating and for sharing my honest opinion.