Who remembers the Teenager Mutant Ninja Turtles from their youth? I know I'll never forget the crime fighting, cowabunga dude shouting, sewer living turtles that my brother and I used to watch on tv! And now they are back! On September 4th,  NINJA TURTLES: THE NEXT MUTATION, VOLUME 1 became available on DVD!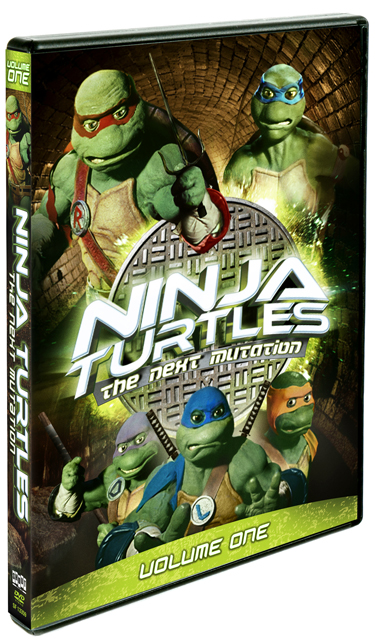 Four green turtles, heard the news? Changed to mutants by an ooze. Found on the floor and raised by a rat. Now they're ninjas, how about that? Check it out, another one found made her way to Chinatown. With the rest, now that makes five. NinjaTurtles are alive!
The memorable live-action adventure series Ninja Turtles: The Next Mutation debuted in 1997. The series continued the fun-filled saga of Leonardo, Raphael, Donatello and Michelangelo, four genetically mutated turtles who have transformed into human sized, ninja-powered crime fighters living in the sewers of New York City. Soon the Ninja Turtles' world that they have come to know and love will change. If you thought Shredder was bad, wait until you meet their newest foe–Dragon Skull! It will take all the power of our four reptile heroes to combat this new villain, including the help from a new ninja turtle named Venus De Milo!
Watching this with my boys sure brought back memories, as an adult, I kept thinking "why did we like this show? the acting is pretty bad" but of course kids just don't pick up on that stuff and my own 6 year old thought it was great! lol Each of the boys picked a turtle they wanted to be by their signature colours and pretended to be that turtle!
OWN THIS COLLECTIBLE 2-DVD SET SEPTEMBER 4, 2012
FROM SHOUT! FACTORY