To be honest, I shy away from products that make BIG promises. So when I read about Indeed Lab's nanoblur product promising to make you look 10 year's younger in just 40 seconds, I kind of rolled my eyes like I always do (it's a family trait!). My first thought was 'do I even want to look 10 years younger?' and then I realized that I wasn't 20 anymore, I was 37 and yes, reversing time to my former 27 year old body would suit me juuuuust fine! So I gave Nanoblur a shot!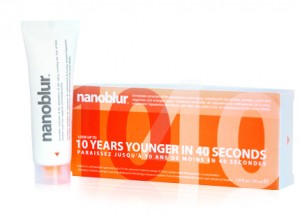 So here's a bit of product info:
 Works in 40 seconds
• Reduces signs of age by up to 10 years
• Non-oily and fragrance free
• Suitable for all skin types and most skin tones
In one word…magic! nanoblur is tomorrow's high technology, today. A suspension of millions of particles refl­ect light perfectly in billions of directions to make the skin's surface appear completely ­flawless. Within seconds, pores begin to disappear. Fine lines seem to vanish. The skin texture appears nearly perfect. With one application on any skin surface (even on your hands), you will be convinced that nanoblur will make you look up to 10 years younger in a matter of seconds. It's just that simple.
Okay, but did it work right???
Well, I did see an improvement fairly quickly, I used nanoblur around my eyes, which is a trouble spot for me with fine lines and wrinkles starting to form. The product smoothed the area and I was pretty happy about that. Did I look 10 years younger? lol no way, but I did like the way it looks and I use it as part of my going out routine now for sure! The instructions indicated that you should put it on last, even if you were wearing make up due to the fact that it is supposed to reflect light. That didn't seem like a good idea to me, as it is a cream and the last makeup application for me is powder, but I followed the instructions.  As it turns out, I was right. Do not try to apply this over top of your make up routine. We spend enough time getting dolled up, this will just wreck all your hard work. nevertheless, this is one product I enjoyed trying out and would use again and again!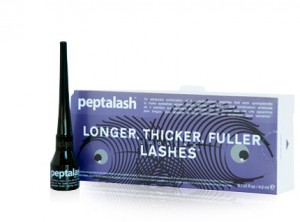 Want to try another product from Indeed Labs? Enter to win a bottle of Peptalash! 
"With unique, clinically proven combination of 3 peptides, Peptalash naturally improves the appearance of lash length, darkness and volume to make eyelashes appear longer, thicker and fuller."