Thanksgiving weekend is upon us here in Canada! One of my favourite weekends of the year! It seems fitting to share with you all a new seasonal recipe I tried last weekend while we had company, Pumpkin Chocolate Chip Squares! They were a hit with the young and old! HAPPY THANKSGIVING!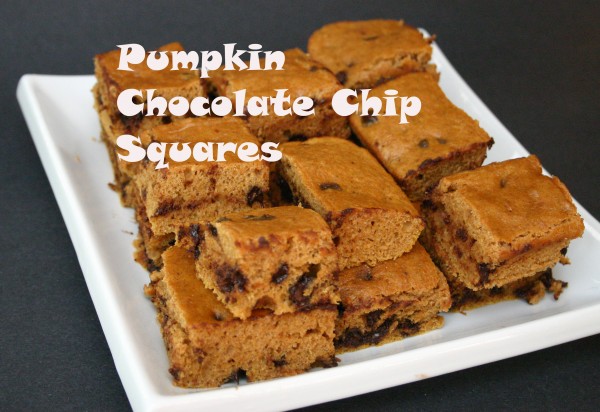 Pumpkin Chocolate Chip Squares
These are really good, go ahead and double the batch and use a 9"x13" if you like!
Ingredients
½ cup pumpkin puree (canned pumpkin is fine)
1 whole egg
2 egg whites
1 tbsp vegetable or canola oil
1 cup flour
1 tsp baking powder
1 tsp unsweetened cocoa powder
½ tsp ground cinnamon
½ tsp ground allspice
¼ tsp ground nutmeg
¼ tsp salt
⅔ cup brown sugar, packed
½ cup semisweet chocolate chips (or white chocolate, or both!)
Instructions
Preheat oven to 350˚F. Line an 8″x 8" inch pan with parchment paper or spray with cooking spray.
In a large bowl, combine pumpkin puree, eggs and oil until smooth. Set aside.
In a separate medium bowl, mix together the flour, baking powder, spices, salt and brown sugar. Add to the wet ingredients and mix until thoroughly incorporated. Stir in the chocolate chips.
Pour into prepared pan and spread evenly. Bake for 15 – 20 minutes or until toothpick comes out clean. Cool completely before cutting.
Source: Pennies on a Platter