What is your least favourite room to clean? I think we can all agree it's the bathroom right?? No one wants to spend a lot of time in a dirty bathroom and thanks to Rubbermaid it just got a whole lot easier!
Rubbermaid had a whole line up of bathroom tools to help you get in and get out leaving a spotless bathroom behind
Spraying Scrubber

Integrated tank and sprayer allows consumers to spray and scrub at once
Tank holds 4 ounces of cleaning product, cleaning most bathrooms two times
Works with switchable pads for surface and job versatility
All-purpose scrub brush with an embedded detail brush
Detail brush is great for cleaning small areas and tight crevasses such as faucets, grout and shower door tracks
Works with switchable pads for surface and job versatility

Extendable Scrubber

Combines extended reach capability for hard to reach areas with a detachable head for close-up jobs requiring more leverage
Quick disconnect for seamless detachment and reattachment of head
Pole extends from 24 – 40 inches for ease of use and comfort
Works with switchable pads for surface and job versatility

Flexible Scrub Brush

All purpose scrub brush that flexes to reach hard-to-access areas, such as the curves and contours of the tub or sink
Locks into "flat" position for open space cleaning
Rubberized inset for great grip
3-inch flexible tip and bristles are bendable, yet firm for optimal scrubbing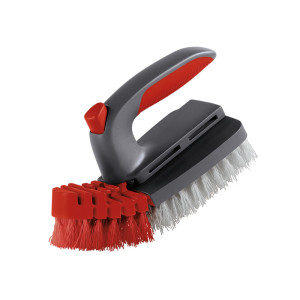 Switchable Pads

Each pad fits three different Rubbermaid scrubbers
For most common cleaning needs
Scouring Pad: Perfect for all-surface scrubbing
Sponge: The all-surface cleaning/wiping pad
Bristle Brush: Great for heavy-duty scrubbing
Disposable Pad: Sold in packs of six and a must-have for messy, "clean and toss" jobs
You can use just a few or all of these products together to get a good overall cleaning of your bathrooms! They work amazing on floors, especially around the toilet and I especially love the spraying scrubber so I can just keep on going when I am in work mode! 
Enter below to win all the Rubbermaid products listed above, over a $50 value!
Canada only