My kids are super picky eaters and packing lunches can be a nightmare. While at home and on the road they would be gobbling up peanut butter sandwiches, at school this simply isn't an option and their choices are limited. One thing they will never trade or send back home at the end of the day with the age old excuse "I didn't have enough time" is Snack Pack Puddings!
As part of the Snack Pack #NoTradesies blog tour, my task was to send the boys back to school after the holidays with a lunch that the boys would love. Trust me, we needed the Snack Packs to brighten the day for Middle Man. While my oldest was eager to head back to grade one on boxing day, Middle Man vowed never to return to JK again! A great lunch was the one of my ploys to get him out the door!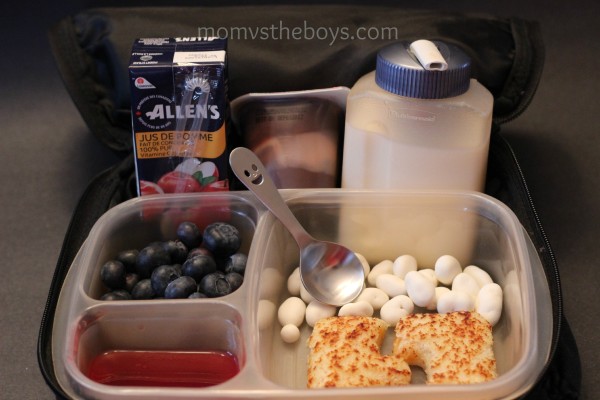 So as you can see, the boys received a special lunch filled with blueberries, yogurt covered raisins, a puzzle shaped grilled cheese sandwich, jello and a very tasty Snack Pack pudding! We have a balanced lunch day at our school which means two opportunities to eat, which is why the boys bring two drinks for the day, apple juice and milk.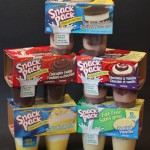 About Snack Pack:
Snack Pack is made with skim milk
Snack Pack Juicy Gels are made with real fruit juice
All Snack Pack puddings have no preservatives or trans-fats
Snack Pack is spoonable, snackable and portably delicious
They come in a range of delicious flavours such asToffee Caramel and Ice Cream Sandwich
Here's a few creative lunch tips from Snack Pack! 
*Can't get your kids to eat their fruit? Adding Snack Pack to the mix turns fruit into a tasty, dip-able adventure. Try the Caramel Apple, all it takes is some apple slices and a Toffee Caramel pudding.

*Sandwich Shape-up: Even a favourite sandwich can seem boring and routine when it shows up in the lunchbox day after day. Keep things interesting and kids engaged by breaking out the cookie cutters and cutting the sandwiches into fun shapes.

*Kebab it up: skewering some bite-sized veggies on a kebab with a side of veggie dip is a different and fun way to make sure veggies are not coming home at the end of the day.

*Utensils are key: let your kids pick out their utensils, napkins and lunchboxes. They definitely won't be reaching for the aluminum, and giving them a say means they will take pride in their lunch pack. Have bright, colourful spoons on hand so kids can choose whether it's a yellow, blue or orange kind of day!
Visit the Snack Pack Canada Facebook Page for more fun ideas on how to create a No Tradesies lunch for your child! 
Need some help yourself in the lunch department? Enter Below to win a fun Snack Pack "No Tradesies" Prize Pack including two delicious flavours of Snack Pack pudding, Lunch Punch Sandwich Cutters, Happy Spoons, a mini portable travel speaker and a tote-able lunch bag consisting of a cooler bag and four leak-proof, compartmentalized food container, a $50 value