Michelle Zacharias is a busy mom of 4, who values good nutrition, even when the family is on the go. She invented the Squishy Snak Pak, and once I laid my eyes on it, I was hooked! I was using a similar product already but in  single use packaging only and by a baby food brand. Problem is, we don't have babies anymore and it was really wasteful!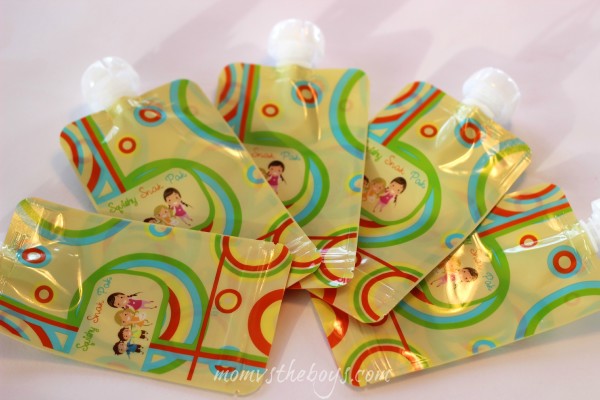 What's a Squishy Snak Pak?


The Squishy Snak Pak is a reusable spouted pouch for homemade baby food, yogurt, apple sauce, smoothies and anything else little hands can squish! You've probably seen packaging like this cropping up in your food aisles, but Squishy Snak Pak offers you so much more!
With the Squishy Snak Pak you can fill your own pouch with your child's favourite foods. Most of the store brands only come with applesauce bases and textures and one of my son's is really turned off by that. With the Squishy Snak Pak, I can fill his with his favourite vanilla yogurt and still have the convenience of the pouch in the van. The spouted pouch eliminates the need for spoons and kids can easily feed themselves by sucking the contents out, mess free!
I like that the Squishy Snak Pak comes in a gender neutral and non-babyish design. We were buying this 'baby food' for our boys because it offered a healthy option when traveling in the van, at theme parks, on the beach etc. but it was always a little embarrassing to have your four year old sipping baby food in public!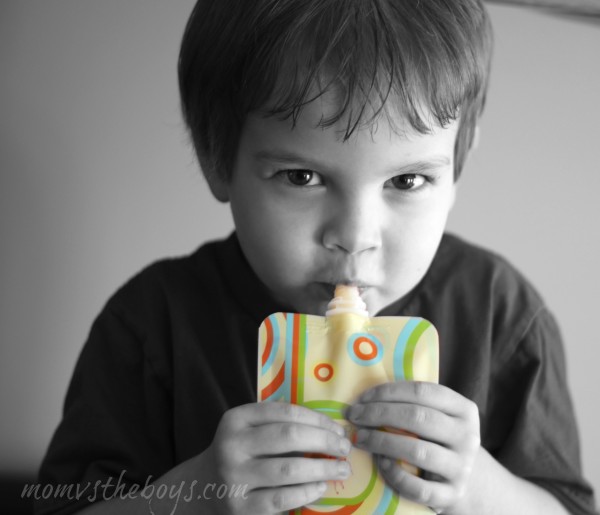 If you are making your own baby food puree for your little one at home, this is the only way I know of that you can still benefit from the convenience of baby food pouches. You can even freeze portions right in the Squishy Snak Pak for later. Our family will be taking on a 24 hour road trip to Florida soon, and I am sooo excited to be able to freeze some yogurt in these pouches and have them on our long trip. They can keep other food cold and when thawed, they will be ready to eat!
* Snack container you can fill it from the bottom, squish it out the top

* Our product is made from BPA free materials and feature a choke proof cap along with a heavy duty zip closure. Fill it up with any creation your little one loves

* Wash it and reuse it over and over again

* The clear window on the back allows you to see the contents

* Holds 1/2 cup of your creations
You can experience the ease of Squishy Snak Pak too! 
Enter below to win a Squishy Snak Pak – 2 Pack!
Open WorldWide