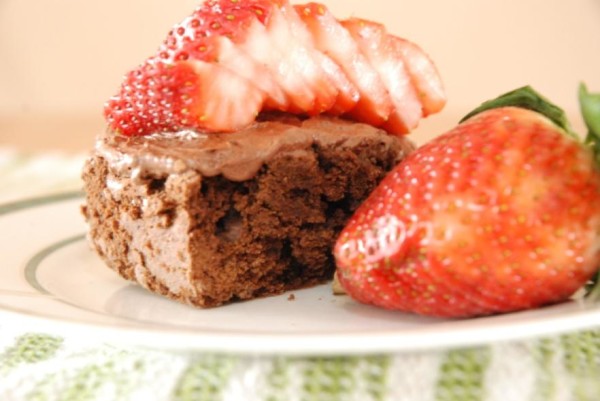 What do you do when your cousin asks you to make her wedding cake but she's not a fan of regular cake? You make her a brownie layer of course!  
Ingredients: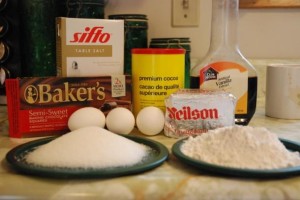 1 cup all-purpose flour
¼ cup cocoa powder
¼ tsp salt
6 oz semi sweet chocolate (about 6 squares)
½ cup unsalted butter
3 eggs
1 cup granulated sugar
2 tsp vanilla 
Options:  You can add 1 cup of nuts, skor bits, dried cranberries to this batter for variety.
Tools: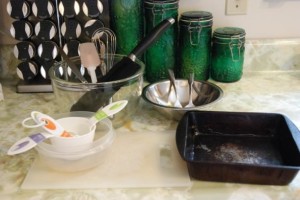 Cutting board                                   
Fork
Microwave safe bowl                    
Spoon
Measuring cups & spoons           
Small mixing bowl
Large mixing bowl                           
9 x 9 square baking pan
Butter knife (used for leveling the dry ingredients)
Plastic spatula
Whisk
Sharp knife
Directions:

Preheat oven to 325*F and spray or grease & flour a 9 inch square cake pan.  

Coarsely chop the chocolate and place in a medium size microwave safe bowl along with the butter. Microwave on medium for 1.5 – 3 minutes, depending on your microwave.  Keep a close eye on it.  When the butter is melted you're done – the residual heat will finish melting the chocolate. (Tip: I cut the butter into small cubes so it melts faster and reduces the chances of burning the chocolate).  Set aside to cool.

In a small mixing bowl, using a fork, stir flour with cocoa and salt.

In the large mixing bowl whisk the eggs briefly on their own, then add the sugar and vanilla.  Whisk everything together until well combined.  
Here's what your 3 bowls should look like: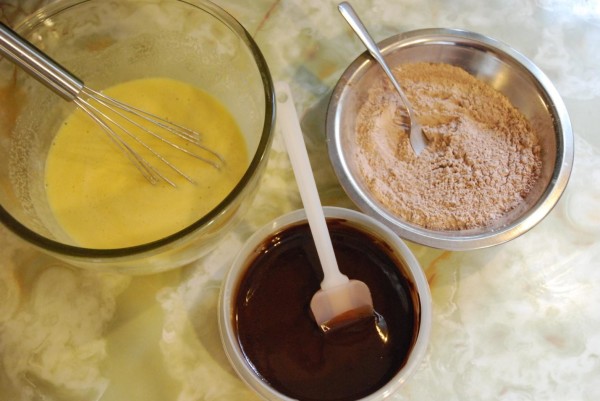 5. Make sure your chocolate mixture is cooled.  Then scape it into your egg mixture & stir until combined.
6. Gradually add in flour mixture and stir until just absorbed.  I add in 1/3 or ¼ of the flour at a time.  DO NOT over mix – this will toughen the brownies.  Add any options like nuts or skor bits at this time.  
Here's what the batter should look like: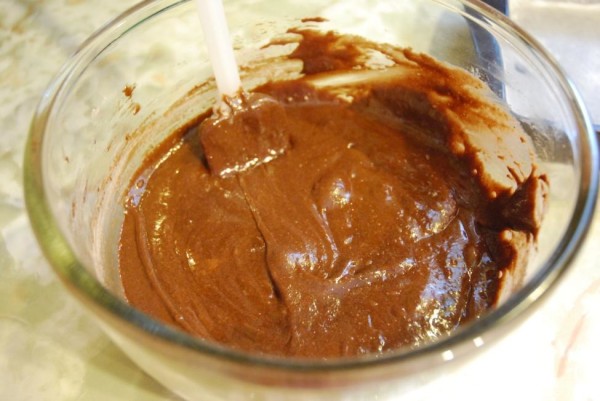 7. Bake until the edges are firm and the middle is set, about 35 – 45 minutes.  Don't over bake.  (a toothpick inserted in the centre may have chocolately crumbs clinging to it)  Remove pan to a rack and cool.  Cut into squares.  Brownies will keep well, covered, at room temperature for up to 3 days or in the freezer up to 1 month.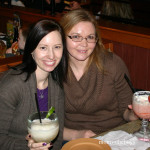 I'd like to thank Jennifer for the opportunity to be a guest poster on her blog.  If you like the recipe please come by my own blog and say hi & see what other creations are happening in my kitchen.  http://lifeandfoodnetwork.blogspot.ca/

Tammy