Busch Gardens® Tampa is one of the largest zoos in North America, with more than 12,000 animals representing 250 species and more than 30 threatened and endangered species in the park's various animal habitats.
Isn't that incredible? Busch Gardens can bring you face-to-face with more exotic and endangered animals than any destination outside of Africa!  For my animal loving crew, this was a must-see and our first theme park while visiting Florida.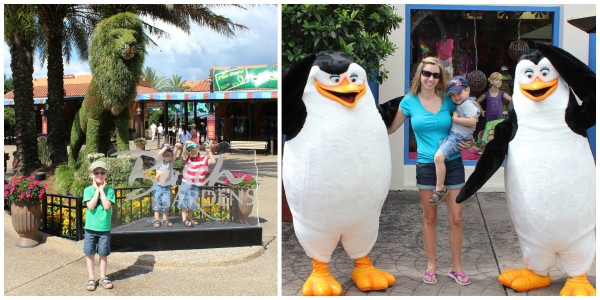 Even outside the gates, you can get a taste of what's in store! The beautifully manicured animal gardens are gorgeous! Just inside the doors we met some favourite friends, the Penguins!

Busch Gardens is a large and fun place to explore, animals are most active in the early morning, but the rides are less busy at that time as well. So decide what you most want to get out of the day and start there. We knew our kids are also most active in the morning and tend to burn out fairly fast, so we started off Busch Gardens with a bang and headed straight to Sesame Street Safari of Fun!!
Busch Gardens for Kids
There are two main areas for young kids to play, The first is Timbuktu which was probably the original spot for younger kids because the rides are a little dated, similar to the way local fair rides tend to be. Still lots of fun for the littles though. Sesame Street Safari of Fun is all shiny and new and super exciting! It was hard to get the kids to move on from here and we still didn't get to ride every ride! You can also take in a show at the Sunny Day Theater. If you have ever been to Sesame Place, it is like a mini version of that! Great place to hang with the kiddos! My 3 and 4 year old took on their first roller coaster with Air Grover!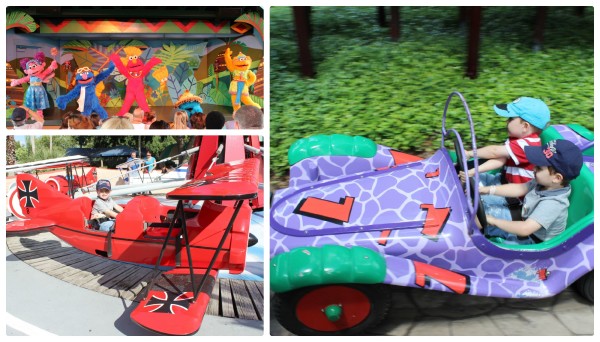 There is plenty of rides for older kids and adults too, Busch Gardens has a number of big coasters like the Montu, Gwazi, Scorpian, Kumba, and our favourite to watch from the sideline SheiKra! It freaked me out just watching those brave souls take the "200 feet climb to the edge of a 90-degree drop that inches you mercilessly over the edge—and stops. Then surrender to speed as you dive straight down into a 70 mph coaster whirlwind with an Immelmann loop, a second dive into an underground tunnel and a splashdown finale that drenches SheiKra fans waiting to catch their own piece of the fun."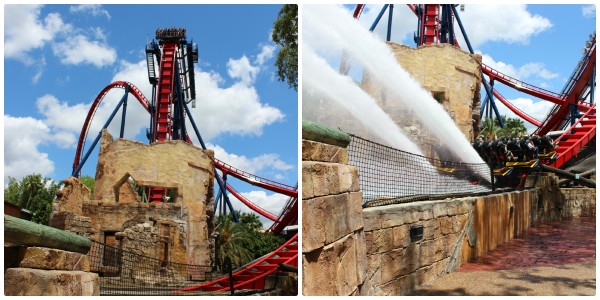 The Serengeti Plain by Jeep, Sky and Train
After a yummy lunch at Zambia Smokehouse we hopped on the Serengeti Railway. The train is a great way to tour around the whole park without walking. We didn't bring our stroller on this adventure so taking advantage of the train and Skyline were great time savers at moving about the park at a decent pace. On both rides we could see some amazing African animals like the Giraffe, Zebra and a ton of two horned friends on the Serengeti Plain!

Rhino Rally is another way to explore the Serengeti Plain but a little closer up!  Riders must be 39″ tall, at least 3 years old to get in the jeep, so that ruled out our shorty who didn't pass by a slight hair. The good news is that Busch Gardens allows a 'Kid Swap' which is essentially an adult swap. I was able to take the two other boys on the African Safari while Hubs waited with our youngest, when the ride was over, he was able to hop right on and ride again with the boys without waiting in line. This allowed us all to ride without wasting a lot of time. 
Animals of Busch Gardens
I was really surprised by how alert and active the animals were at Busch Gardens, especially on a Florida afternoon. I've been to lots of zoos where the animals lie down and never move, so it was really fun for us to see the Orangutans put on a show, the Elephants try to break out of jail and the most fascinating thing occurred when meeting with the Bengal Tigers! 
The Hubster caught one Tiger's eye while he was roaming around. That Tiger and my Hubs got locked into a little staring competition, locking eyes for a minute or so. At the same time my six year old noticed the Tiger getting closer during his little stare down with Hubs and he jumped up close to the glass for a closer look. The Tiger immediately pounced at the glass and scared the daylights out of my son! lol 

Busch Gardens Tampa Bay is located at the corner of Busch Boulevard and 40th Street. There is plenty of parking, which is not close to the gates but they do offer a tram ride to prevent the long walk. Park hours were only 10am – 6pm on the week day we were there in May. Many people, like us, stayed right until 6pm so there was a bit of a waiting getting a tram ride back to the parking lot. The grounds were clean, perfectly manicured and provide plenty of shade. The staff were beyond friendly! It's hard to believe, but I have been to children's theme parks before (even a sister park to Busch Gardens) and had the exact opposite experience, with rude and grumpy staff.  So we were really happy to see that the staff were super friendly and seemed to really enjoy their jobs, even breaking in to a 'big boy dance' with my youngest who could ride the little roller coaster and every staff member we passed while riding the train stopped to wave as we rolled by. 
From the Rides, to the Animals to the friendly staff, Busch Gardens was a fun and adventurous day for the whole family! 
disclosure: We received complimentary tickets to visit Busch Gardens, however, all opinions expressed are honest and my own.